A Surprise Hedge for Any FX Trade
12/28/2011 6:00 am EST
Focus: FOREX
This Indian rupee-based example shows how any currency trader can mitigate inflation risk by hedging using a security that profits from the drop in the underlying currency's value.
Forex traders in India are well aware of the benefits of trading in a volatile market, especially their own currency. Many of them have also been reaping the rewards of shorting this bearish environment. However, living in India can be expensive, especially as food and energy inflation has diminished the buying power of the rupee. In fact, as I write this article, the rupee has reached a new all-time low against the US dollar.
So, while traders may be making profits, they will have to work extra hard to realize gains if they do not properly hedge against the falling rupee. Even if they made profits in the 2011, they lost about 18% of purchasing power when compared to the US dollar.
On January 1, 2011, I could buy only 45.45 rupee for one dollar. Now, you can get 54.07 rupee for one dollar. Beginning in August, the rupee began a sharp weakening trend.
The chart below shows the strength of the US dollar to the rupee.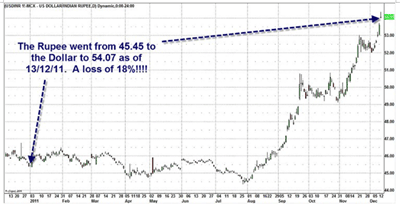 Click to Enlarge
It's a good lesson on how any currency trader can mitigate their risk of inflation in that currency when trading it. What can be done to combat your exposure to inflation? Learn to hedge your portfolio by trading something that profits from the drop of rupee value.
NEXT: How This Trade Can Be Hedged for Inflation
|pagebreak|
Currency trading known as forex is limited in India. The RBI regulations do not currently allow the use of your money for margin on forex trades. However, the National Stock Exchange offers USD/INR futures for trading.
You can chart this nearly the same as you would for any other security. The margin requirements are based on the typical SPAN margin requirements and offer great opportunities.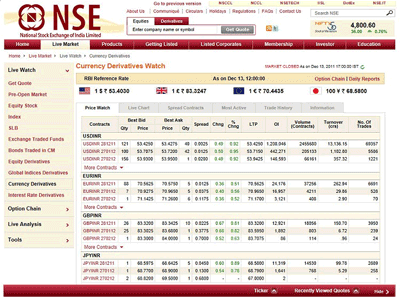 Click to Enlarge
As you can see, there are also rupee futures available against other major currency pairs. If you are not comfortable trading the currency futures, you can even substitute other commodities as a proxy for trading the rupee.
You wouldn't consider it, but looking at the Wisdom Tree Dreyfus Indian Rupee ETF (ICN), which is traded in the United States, there is an 88% positive correlation with the soybean futures. So, if you are worried about the drop in the rupee, short soybeans!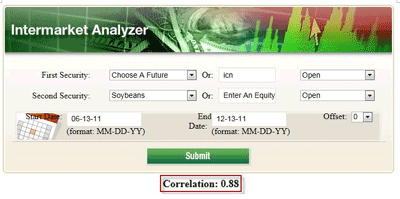 Click to Enlarge
I, again, used an ETF to determine the correlations on www.traderplanet.com/library/intermarket. This is a useful tool for finding relationships between assets. It is amazing to see all the things you can trade by using substitutes.
So, protect your profits and enhance your returns by fighting the drawdown in your purchasing power. By doing so, you will realize real returns in your portfolio versus those diminished by inflation.
By Brandon Wendell, instructor, Online Trading Academy