Latest Report Shows Currency Trader Bias
02/22/2012 6:00 am EST
Focus: TRADING
CountingPips.com explains how the latest COT report shows how large institutional currency traders are trading the US dollar and other currencies against it.
The latest Commitments of Traders (COT) report, released on Friday by the Commodity Futures Trading Commission (CFTC), showed that large futures speculators added to their overall US dollar long positions last week for the first time in three weeks. Euro short positions increased after falling for two consecutive weeks.
The COT report is published every Friday by the Commodity Futures Trading Commission (CFTC), and shows futures positions as of the previous Tuesday. It can be a useful tool for traders to gauge investor sentiment and to look for potential changes in the direction of a currency or commodity.
Each currency contract is a quote for that currency directly against the US dollar, so a net short amount of contracts means that more speculators are betting that currency to fall against the dollar, and net long position expect that currency to rise versus the dollar. The graphs overlay the forex spot closing price of each Tuesday when COT trader positions are reported for each corresponding spot currency pair.
Non-commercial futures traders, including hedge funds and large speculators, increased their total US dollar long positions to $16.98 billion on February 14 from a total long position of $10.63 billion on February 7, according to the CFTC COT data and calculations by Reuters, which calculates the dollar positions against the euro, British pound, Japanese yen, Australian dollar, Canadian dollar, and the Swiss franc.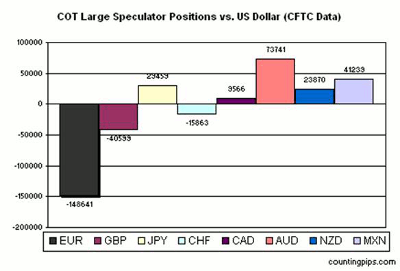 Click to Enlarge
Euro
Currency speculators were back to increasing their euro short positions following two consecutive weeks of declining shorts. The positions are still higher than when the euro registered a new record high for euro shorts on January 24 at a total of 171,347 contracts.
Euro net short positions advanced to 148,641 contracts against the currency on February 14 from the previous week's total of 140,593 net short contracts.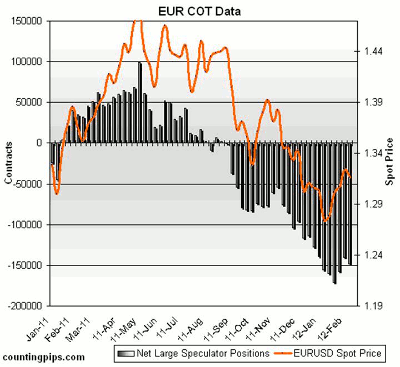 Click to Enlarge
GBP
Pound sterling positions declined for a second consecutive week to the lowest level in a month, according to the data as of February 14. British pound positions saw a total of 40,599 net short positions on February 14 following a total of 33,122 net short positions registered on February 7.

Click to Enlarge
JPY
The Japanese yen net long speculative contracts fell sharply last week to decline for a second consecutive week, according to the data on February 14. Yen long positions dropped to a total of 29,459 net contracts reported on February 14 following a total of 55,171 net long contracts on February 7.
Yen speculative positions have now fallen to their lowest level since December 27, when positions totaled 22,585 contracts.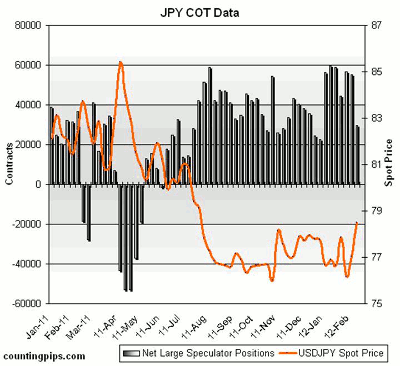 Click to Enlarge
CHF
Swiss franc speculators raised their short bets against the Swiss currency to the highest level in at least four years last week. Speculator positions for the Swiss currency futures numbered a total of 15,863 net short contracts on February 14 following a total of 9,795 net short contracts as of February 7.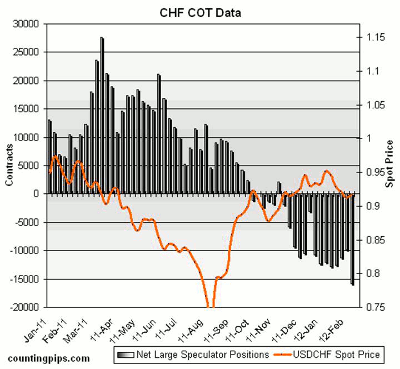 Click to Enlarge
CAD
Canadian dollar positions rose higher after surging the previous week to the best total long position in four months. Canadian dollar positions rose to a total of 9,566 net long contracts as of February 14 following a total of 2,184 short contracts that were reported for February 7.
CAD positions are now at their highest position since late August, when long contracts equaled 13,939.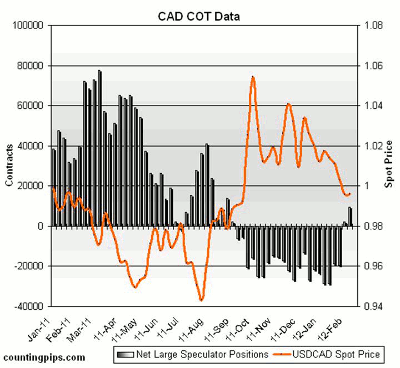 Click to Enlarge
AUD
The Australian dollar long positions dipped slightly for the second consecutive week, following a run of six consecutive weekly increases through January 31.
Australian dollar positions decreased to a total net amount of 73,741 long contracts on February 14, after totaling 75,095 net long contracts reported as of February 7. The AUD speculative positions were at their highest level in six months when Australian dollar long positions totaled 81,438 on January 31.

Click to Enlarge
Find more currency information at CountingPips.com.
By clicking submit, you agree to our privacy policy & terms of service.
---
Related Articles on TRADING