2 Solid Trade Ideas Against the Euro
06/14/2012 6:00 am EST
Focus: CURRENCIES
The volatile euro rally seems to have found resistance, and capital flight out of the euro should create favorable risk/reward entries in both the US dollar index and the EUR/GBP cross, writes Cody Tafel of Minyanville.com.
The US dollar index has been able to hold the 82 support level on this recent pullback, and I think it shows how this is still a healthy bull market. This was a prior resistance level, and as an example of classic technical analysis, prior resistance is now becoming future support.
As I mentioned a couple weeks ago in a previous article, I am not sure we will see the US dollar index trade back below 80 for a long time now, so below 82 (and especially below 81), I would continue to add to US dollar long positions.
Longer term, I think there is upside to the 2002 highs near 110, so there is clearly still a nice risk/reward set-up.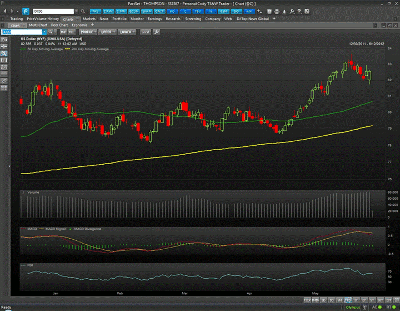 Click to Enlarge
The euro continues to dominate the headlines, as it becomes pretty clear that things in the Eurozone are not getting better anytime soon. This uncertainty should keep the euro under pressure, and it clearly is having trouble with the 1.25 resistance level and the prior January support levels, which are now acting as resistance.
This market will remain susceptible to a short-covering spike because it is headline driven, so I would wait for a sharp rally back into the high 1.20s before getting aggressively short the euro.
There is still plenty of downside, however, but the risk/reward set-up is just not as favorable as it was a month and a half ago. This is the time to ride a smaller winning position and be patient for the opportunity to get aggressive.

Click to Enlarge
NEXT: Favorable Short Set-Up in EUR/GBP Cross
|pagebreak|
The capital flight out of the euro should continue to benefit the British pound, at least on a relative basis, which is why I still think short positions in the EUR/GBP cross make sense.
The EUR/GBP cross has consolidated for the past two to three weeks, and I think it is setting up as a nice risk/reward short again above the 0.81 level.
Here is a recent daily chart: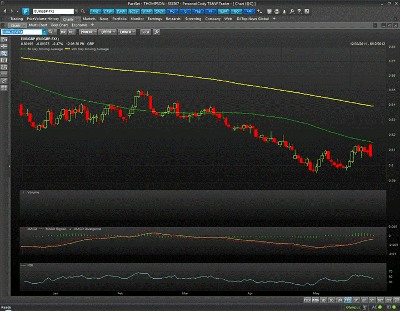 Click to Enlarge
EUR/GBP has already failed back below that resistance, but with some patience, I think we will get another shot to add to existing short positions above 0.81. Keep an eye out for that level, as capital fleeing the euro is likely to continue to benefit the British pound. Be careful out there!
See also: A GBP Trade That's Best When Risk Is on
By Cody Tafel, contributor, Minyanville.com