2 FX Charts with Big Commodity Impact
06/15/2012 6:00 am EST
Focus: CURRENCIES
Chart patterns in a pair of ETFs tracking known commodity currencies suggest not only upside for the currencies and their ETFs, but also an important turn higher in the commodity markets, writes Greg Harmon of Dragonfly Capital.
Don't expect to see any charts of grains, fuels, or metals here! Yes, those are commodities, and some have been bottoming for some time. But this article is about select signs in the foreign exchange market that show that a turn higher may be coming.
Forex traders will often look at a country and put a label on its currency. That label for Australia and Canada is "commodity currency," and using the CurrencyShares Australian Dollar Trust (FXA) and CurrencyShares Canadian Dollar Trust (FXC) as proxies for the actual exchange rates, there are signs of a turn higher for commodities.
Take a look at a daily chart of FXA:

Click to Enlarge
The CurrencyShares Australian Dollar Trust (FXA) gapped higher off of a bottom at $97 last week. It has a rising Relative Strength Index (RSI) and Moving Average Convergence Divergence (MACD) indicator, both of which are bullish and support more upside. This is happening as the ETF is approaching the gap resistance at $100.
A move above $100 is a long-entry trigger and brings a target of $104 with some resistance at $102 along the way.
Meanwhile, the CurrencyShares Canadian Dollar Trust (FXC) is also moving up off of a bottom, this one at $95. The RSI and MACD are trending higher here as well and support a continued move higher for the ETF.
At the moment, it is creating a symmetrical triangle bounded by the 20-day simple moving average (SMA) to the top with a breakout over $97 giving a target of $98.20, filling the gap from May 17. That would leave the next resistance higher at $99.
Here is a daily chart of FXC: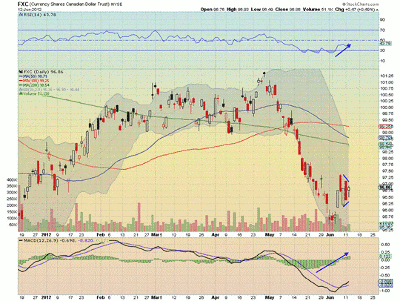 Click to Enlarge
If both of these currencies break out higher, many will expect commodities to follow. Get your shopping list ready and be prepared!
See also: The 2 Strongest Intermarket Trends
By Greg Harmon of Dragonfly Capital