Are These Signs of a EUR/USD Bottom?
10/02/2012 9:00 am EST
Focus: CURRENCIES
As the Federal Reserve maintains a dovish tone for monetary policy, the market has shown mixed signals for the US Dollar. DailyFX quantitative strategist David Rodriguez provides an analysis.
The US Dollar has set a series of higher lows since the Euro top on 9/17, but do market conditions support calls for further strength?
The Euro has traded consistently off of its $1.3170 high, while the Dow Jones FXCM Dollar Index has similarly traded solidly off of recent lows. The critical question becomes whether this is the start of a larger US Dollar recovery.
FX Options show that volatility expectations are at multi-year lows. The safe-haven US Dollar tends to do poorly in slow market conditions, and the clear downtrend in vols helps explain the broader USD downtrend.
DailyFX Individual Currency Pair Conditions and Trading Strategy Bias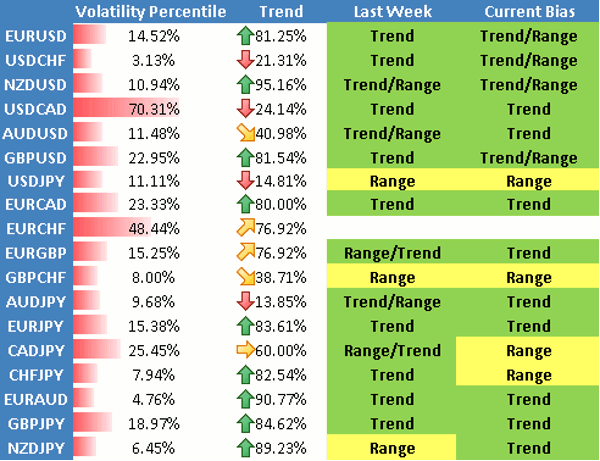 Click to Enlarge
Given such extremely low volatility readings, we have little option but to favor slow and steady USD declines across the board. Our "Tidal Shift"/Momentum2 strategy has nonetheless done well in both going long and short the US Dollar in recent weeks. Its resilience in the face of adverse market conditions makes it our favored strategy until further notice.
NEXT: Significant turning point in market conditions ahead. |pagebreak|
It has been quite some time since we favored using our previously-popular "Breakout2/Breakout Opportunities" system, and the reason is simple: breakout trading tends to work best during more volatile market conditions.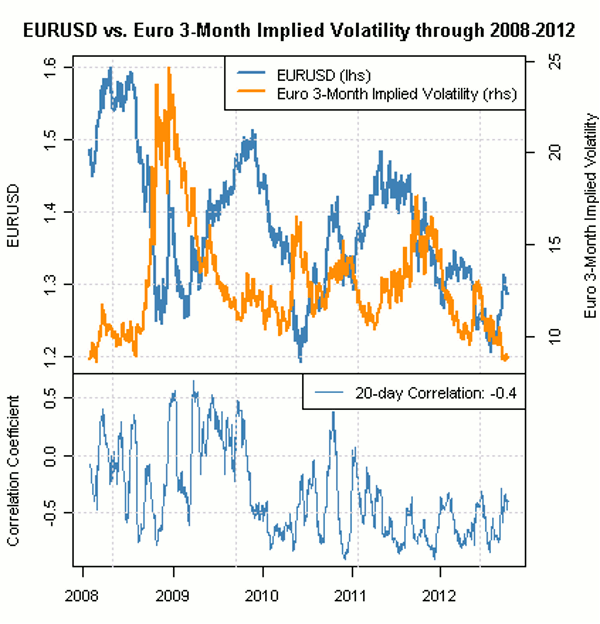 Click to Enlarge
Euro volatility expectations are now at their lowest levels since the EUR/USD set its all-time high of $1.60 in 2008. It was at that point that extremely quiet market conditions led to substantial reversals across the board.
We can't know whether we will see similar through the foreseeable future as major tops/bottoms are only clear in hindsight. Yet we warn against getting too complacent amidst such incredibly low volatility levels.
Market Conditions:
Extremely low forex options market volatility expectations suggests that currencies will continue to move in tight intraday ranges.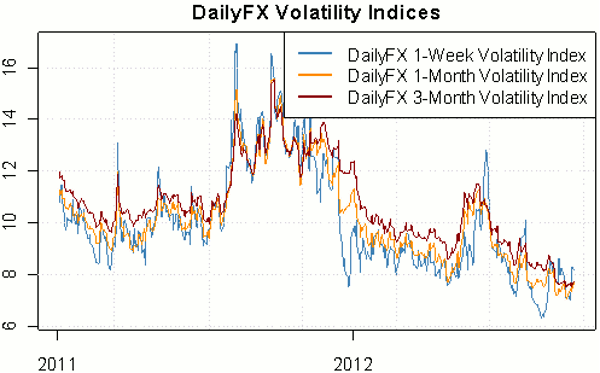 Click to Enlarge
Yet volatility expectations can only remain so low for so long. We may be near a significant turning point in market conditions, and caution is urged amidst clear risks of turnaround.
By David Rodriguez, Quantitative Strategist, DailyFX.