Trading the Largest Mover for Past 2 Weeks
12/04/2012 9:00 am EST
Focus: FOREX
The EUR/JPY has trended 350 pips in the past two weeks,yet it hasn't broken its March 21, 2012, high. This makes the recent increase a possible counter trend move leaving EUR/JPY vulnerable to a sell off, says Jeremy Wagner of Daily FX.com.
One of the most popular forex trading strategies is trend following. This is because identifying trends is quick and relatively easy. As a result, trend trading is one of the first strategies taught when learning to trade forex.
Using technical analysis, we can identify the stronger trending moves by reviewing forex charts. However, one time frame may not be enough to accurately assess the direction of the trend. Therefore, we need to incorporate multi-time frame analysis so we can see the bigger picture trends.
350-Pip Trend on EUR/JPY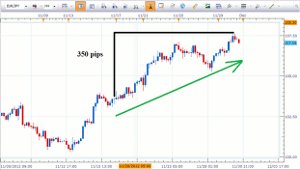 (Created using FXCM's Marketscope 2.0 charts)
Click to Enlarge
For example, for the past two weeks, the EUR/JPY has moved the farthest by increasing nearly 350 pips. Does that mean the trend is up or is this just a correction of the previous down move?
78.6% Fibonacci Retracement Level

(Created using FXCM's Marketscope 2.0 charts)
Click to Enlarge
As you can see above, prices have been working higher since July, but have yet to clear the highest price point in 2012 near 111.40. In fact, by placing Fibonacci retracement levels on the March 2012 to July 2012 down trend, we will see that the EUR/JPY has merely approached the 78.6% retracement level (horizontal blue line). Additionally, there was a previous swing high near 108 in April (green circle) that may act as resistance too.
Many traders look to the 78.6% level as the retracement of last resort because a good risk to reward ratio is available simply by trading the trading range.
EUR/JPY Risk vs. Reward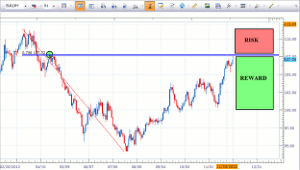 (Created using FXCM's Marketscope 2.0 charts)
Click to Enlarge
Therefore, this recent increase in price may simply be an opportunity for us to sell at better (higher) prices. The trading opportunity is to sell the EUR/JPY at the 78.6% retracement level near 107.5, placing the stop loss just above the March 2012 high. If price creates a higher high than 111.40, then we want out of our short trade.
By Jeremy Wagner, Head Trading Instructor, DailyFX Education