Conditions Favor Trend Trades in These Currencies
01/15/2013 9:00 am EST
Focus: FOREX
Continued surges in Japanese yen volatility expectations leave us in favor of breakout and trend-based trading systems. The US dollar sees itself in a similarly consistent downtrend against the euro and other key counterparts; dollar trend trades remain attractive, writes David Rodriguez of DailyFX.
A surge in Japanese yen volatility expectations has lifted our DailyFX Volatility Indices to five-month highs, and we believe markets are ripe for further high-volatility trading.
The Japanese yen has tumbled to multi-year lows versus the US dollar, and forex options traders predict that JPY volatility will remain elevated through the foreseeable future. We recently called for an important USD/JPY correction as an opportunity to get long (short JPY), but a two-day pullback quickly gave way to further surges.
Japanese Yen Implied Volatility Expectations Remain Elevated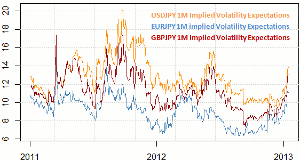 Click to Enlarge
It's difficult to advocate getting short the Japanese yen (long USD/JPY, EUR/JPY, AUD/JPY, etc.) given its extreme declines, but current volatility readings and forex trading crowd sentiment favor continued weakness. How might we get short JPY?
Given that it is psychologically quite difficult to buy the USD/JPY and other yen crosses at such elevated levels, we will look to our trend and volatility-friendly automated FX trading systems to produce attractive trading opportunities.
Beyond the Japanese yen, volatility has been more limited. Yet a fairly consistent US dollar decline versus the euro, Australian dollar, and Swiss franc leaves us in favor of USD-short trend trades.
DailyFX 1-Month Volatility Index versus S&P 500 Volatility Index (VIX) 2011 - Present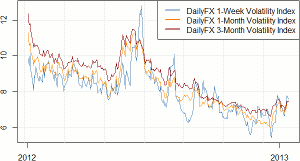 Click to Enlarge
Past performance is not indicative of future results, but our "Momentum2/Tidal Shift" system and "Breakout2/Breakout Opportunities" strategies have outperformed on key US dollar and Japanese yen currency pairs. View the full breakdown of our strategy preferences by currency pair below.
DailyFX Individual Currency Pair Conditions and Trading Strategy Bias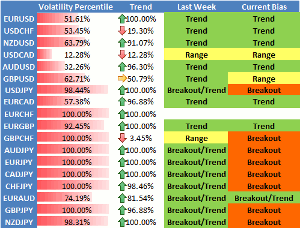 Click to Enlarge
Market conditions remain mostly unchanged since last week, and our overall strategy trading biases are similarly consistent.
By David Rodriguez, Quantitative Strategist, DailyFX