Finding Entries in Extended Trends
Focus: FOREX
Extended price trends can be challenging to trade, writes Jeremy Wagner of DailyFX.com. You don't want to enter for fear of a healthy correction, but you don't want to trade countertrend either.
The GBP/JPY has been in a monster trend by moving over 1300 pips in the past two months. One concern of trading a monster trend is entering a tiring trend. We can see how the highs on January 13 are met with a diverging Commodity Channel Index (CCI) reading. This divergence tells us that momentum is slowing and prices are likely to correct.
Therefore, it is risky to enter into the pair as a buyer…prices may experience a correction. Additionally, it is risky to enter the pair as a seller, because we would be trading against the stronger trend to the upside. As a result, we are left with waiting out a potential correction and use that correction as a means to enter the trend.
GBP/JPY Divergence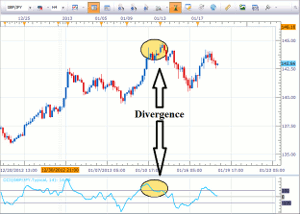 (Created using FXCM's Marketscope 2.0 charts)
Click to Enlarge
Last week, we discussed the 138.00 level as possible support to consider entries.
!--start-->
---