Focus on Currencies with Strong Trends
Focus: FOREX
Finding a steady trend in a single currency can make the difference in follow-through, as well as help determine which pairs to consider for an entry, writes Raghee Horner of InterbankFX.
The "strong kiwi" story and "weak yen" story has been reliable, so I look for confirmation of a continuation with just a single currency at times. For example, regardless of the recent pound sterling and Canadian dollar weakness, my expectation for those pairs to rally come from predominantly more yen weakness by comparison.
One of the first steps in any set-up for me is to determine the directional bias of the pair, in other words: Is it trending? For any trader who has watched the strong trends develop in yen pairs, it's easy to understand it's been more about yen weakness than the strength of the base currency in those pairs. In fact, IF and WHEN the base currency has been strong that really has been just another reason to look for more upside. The only reason any trader could be bearish a yen pair longer-term is IF they see a significant enough reason for the yen to strengthen OR expect more weakness from the base currency than the weakness expected from the yen.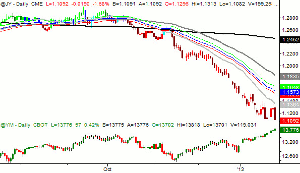 Past performance is not indicative of future results
Click to Enlarge
The yen may have had two sessions of buying momentum—triggered by a BOJ that failed to meet the über-bearish expectation of traders—just above the 1.1100 major psychological level, but this is a shallow correction at best; one that did not even challenge the dynamic resistance of the 20DMA.
!--start-->
---