Trading FX with Commodity Correlations
01/31/2013 9:00 am EST
Focus: FOREX
Having an opinion of a commodity can help you form a trading idea in the forex market, says Walker England of DailyFX.com, and he offers an example for trading the USD/CAD based on your opinion of oil.
Do you have an opinion of the commodities market but looking to trade a forex pair? Understanding correlations between markets can be a great way to find market direction by comparing two completely different assets. One of the most common correlations is found between USOil and the USD/CAD currency pair.
Pictured below, we can see this correlation in action through an overlay of both USOil and the USD/CAD on a daily charts. What you are seeing here is known as an inverse correlation. As USOil decreases in value, it is expected that the USD/CAD will move higher. The opposite is true if USOil advances, then we can reasonably expect the USD/CAD to decline. Knowing this, an astute trader can successfully take his opinion of one asset to trade another. Let's look at an example.
USOil & USD/CAD Correlation (Created using FXCM's Marketscope 2.0 charts)
Click to Enlarge
Looking down at the USD/CAD two-hour chart below, we can see the pair approaching resistance near 1.0100. Normally traders will use these levels as an opportunity to plan market entries as price either breaks through or retraces through these points. Traders who already have an opinion on USOil can plan to trade the USD/CAD accordingly.
The trading setup below would be indicative of a trader who is bearish on the price of USOil. By expecting prices to decline on USOil, it would be predicted that the USD/CAD would break higher in line with our mentioned inverse correlation. Traders can use the 1.0100 resistance level and plan for a breakout to higher highs in an established uptrend. Entry orders can be set below this point while a stop loss can be placed under current resistance.
USD/CAD Breakout Setup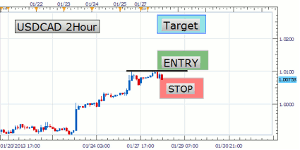 (Created using FXCM's Marketscope 2.0 charts)
Click to Enlarge
Remember there are always two sides to every trade. Traders expecting USOil to increase in value would expect the exact opposite. If resistance holds and price remains beneath 1.0100, traders may reasonably expect the USD/CAD to turn lower.
By Walker England, Trading Instructor, DailyFX.com