Looking for a Tradable Bounce in the Currency Wars
Focus: CURRENCIES
Amid growing concerns that central bankers have launched currency wars in a desperate effort to jumpstart their flagging economies, Greg Harmon of Dragonfly Capital takes a look at the currency that has dominated the headlines the most in recent months.
The Japanese yen had a monster run against the US dollar off of the 2007 bottom. Peaking late last year, the government has since been on a path of devaluing the currency, joining the US and the Eurozone in a race to the bottom. The Japanese have been winning this race over the last four months with the yen falling over 20% against the US dollar. The weekly chart of the ETF tracking the yen (FXY) shows the steep pullback but gives some hope for a tradable bounce as well.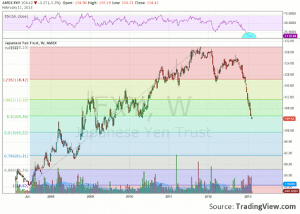 Click to Enlarge
First, it has retraced 50% of the major move higher. If it is to find support, this is a likely place for it to happen. Second, if you look at the relative strength index (RSI), it is at an extremely oversold level. Prior to this run lower, it had never seen a level under 25.
!--start-->