Why is Gold Selling Off and Can it Continue?
04/17/2013 9:00 am EST
Focus: FOREX
Record declines in gold have coincided with sell-offs in the Australian dollar; yet correlations may be misleading, writes DailyFX quantitative strategist David Rodriguez.
Correlation Between the Price of Gold and the Australian Dollar
Gold prices started the week with the largest single-day decline on record, and most were left wondering what could possibly be driving such remarkable weakness. The short answer is that no one knows the true fundamental reason for gold price tumbles.
Simultaneous declines in the US S&P 500, Dow Jones Industrial Average, and Australian dollar have nominally driven cross-market correlations to gold substantially higher, but it's critical to remember that correlation is NOT causality.
Correlation Between the Price of Gold and the Australian Dollar/US Dollar Exchange Rate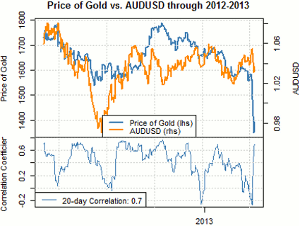 Click to Enlarge
The long answer is that tremendous speculative interest below critical support near $1525 likely forced selling from those who remained heavily net-long.
On Thursday, we warned that our proprietary Speculative Sentiment Index data showed retail FX traders were far too enthusiastic to buy into gold price weakness, and we warned against catching falling knives. Indeed, we most often use SSI as a contrarian indicator to price action; if most are buying, we prefer to sell.
Our warning on buying into gold price declines remains valid as crowds remain extremely net-long.
Forex Traders Remain Aggressively Net-Long Gold Prices

Click to Enlarge
Our SSI shows that there are currently 1.8 traders long spot gold for every one that is short. This is a significant shift from Friday when the same data showed 3.9 traders long per short, but we think that this is not necessarily a substantive shift in sentiment. Rather, many were forced to exit gold-longs to cover margin requirements in their trading accounts.
It is certainly worth noting that short positions are up 16% since yesterday—clearly some are seeing this as an opportunity to sell the breakdown.
Our Speculative Sentiment Index on gold prices appears once per week on DailyFX.com via our Technical Sentiment page.
Forex Correlations Summary
View forex correlations to the S&P 500, S&P Volatility Index (VIX), Crude Oil Futures prices, US 2-Year Treasury Yields, and Spot Gold prices.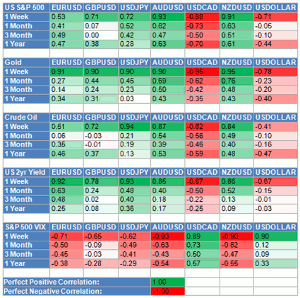 Click to Enlarge
We'll need to watch how crowds react in subsequent days to really get a gauge of the next likely move in gold price action.
By David Rodriguez, Quantitative Strategist, DailyFX