Join Raghee Horner LIVE at Back to the Futures!
Join Raghee Horner LIVE at Back to the Futures!
What Dow Weakness Means for the Euro
04/19/2013 9:00 am EST
Focus: CURRENCIES
As Europe's economic picture continues to be grim, the US dollar appears to be reclaiming its safe-haven status, tumbling Dow notwithstanding, says Raghee Horner of InterbankFX.
The post-February climb higher in the dollar was accompanied by historic highs in the Dow. The Dow is the most psychologically relevant view of equities and while not nearly representing the cross-section that the S&P does, it's reflects a generalized, "everyman" view of equities strength or weakness. As the Dow sank lower Wednesday, it should be noted that it didn't drag the US dollar lower with it and this is beginning to mark the adjustment traders are making to an expectation of a later wind-down to QE.
If the US dollar is to re-emerge as a safe haven, it may well be now as the ECB and RBA turn dovish and an appeal comm-dolls may have could be less so because of the risk aversion. The Canadian dollar may well have the support of a hawkish BOC, but it has the drag of lower oil demand in the US and China. The EUR weakness, driven by USD strength, will perhaps also begin to make traders re-think the optimism it has had for the single currency despite all the headwinds, but I do think there are*hopes* that looser monetary policy from the ECB could kickstart the European economy.
It's important to also mention from a timing perspective that Wednesday's Dow weakness did not begin with the disappointing Bank of America (BAC) earnings. In fact the $0.03 miss was actually what BAC earned Q1 of 2012.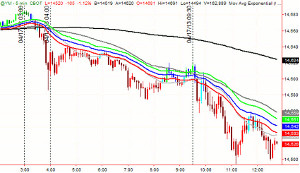 Click to Enlarge
Notice that the Dow was heading lower shortly after the London open and while the Asian close did offer a slight reprieve, the move lower continued into the New York open and leveled off until the Wall Street open sent it sharply lower again. The losses leading into the US session were likely in response the red arrows across the European markets. The European to US risk aversion is no doubt helping the US dollar.
In the bigger picture, the more confusion that persists over WHEN and HOW the Fed will end QE, the more the Dow and dollar will begin to move inverse to one another.
At mid-day, despite the Dow not putting in new intraday lows, the US Dollar Index pushed to new intraday highs.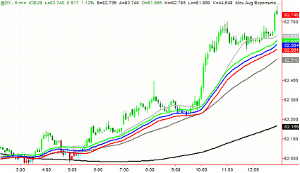 Click to Enlarge
Ultimately, as long as there is equities exhaustion, this will play into the hands of the dollar bulls.
By Raghee Horner, Chief Currency Analyst, InterbankFX