Pinpointing the Turn in the Euro Dollar
04/29/2013 9:00 am EST
Focus: FOREX
Momentum is turning on the euro dollar, and Walker England of DailyFX.com reviews how you can identify a change in short-term trends for scalping forex.
Navigating short-term trends can be a difficult task for scalpers. When market momentum shifts from an uptrend to a downtrend, day traders should have a plan of action to switch gears and change market direction. Today we will review pinpointing a turn using market momentum on the EUR/USD.
Below we can see a change in direction on the EUR/USD using the four-hour chart. From the beginning of the month, the EUR/USD has advanced as much as 457 pips to the standing high at 1.3202. Since that time, the trend can now be seen moving to the downside. However, before any new orders are put into play, traders will question if short-term pricing is moving in the direction of the trend.
EUR/USD 4HR Trend (Created using FXCM's Marketscope 2.0 charts)
Click to Enlarge
EUR/USD Building Blocks
Our building block methodology, which is normally reserved for finding market momentum can also be used for finding changes in the short-term trend. Our analysis begins by segmenting our charts by blocking off Wednesdays and Sundays on the graph. The key is to identify changes in market direction by examining the swing highs and lows for these divisions.
Below, we can see an example using our building blocks for the EUR/USD. Block one below begins on Wednesday, the 17th, and it should be noted that the pair made a series of lower lows and lower highs through Sunday, the 21st. Recognizing that price is down, it should be compared with our previous pricing block that formed a series of high highs through the 16th. By reviewing these blocks, traders will have their first signal that the short-term momentum for a currency pair is turning.
EUR/USD Building Blocks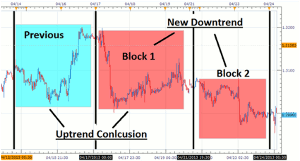 (Created using FXCM's Marketscope 2.0 charts)
Click to Enlarge
Above we can see continued downward momentum for the EUR/USD. Pricing Block 2 has also indicated a series of lower lows. Now that the trend has been moving in the same direction for two pricing blocks, we can now begin to look for new opportunities to sell the EUR/USD.
By Walker England, Trading Instructor, DailyFX.com