Retracement Trading for Scalpers
05/14/2013 7:00 am EST
Focus: FOREX
Trading market swings is a scalping strategy staple, and today, Walker England of DailyFX.com will discuss the art of trading short-term retracements using oscillators.
Scalpers and forex day traders can select from a variety of strategies to trade short-term graphs. Normally these strategies will revolve around taking advantage of market momentum or scalping breakouts with the trend. Today, we will examine the art of scalping retracements swings using a technical oscillator.
As discussed in our previous scalping lesson, the NZD/USD remains in an excellent position to look for scalping opportunities. As of today, the NZD/USD has moved to a fresh monthly low for May and has declined as much as 310 pips from last week's high. Traders looking for retracements will look for pullbacks against the trend, then sell when price momentum returns. Let's look at an example of exactly how this is done.
NZD/USD 2-Hour Trend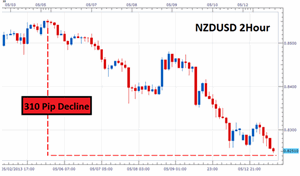 (Created using FXCM's Marketscope 2.0 charts)
Click to Enlarge
Now that a trend is found, remember, retracement traders will look for opportunities to sell at the best price possible as the market makes a lower high counter the primary trend. These points are called swing highs and are generally created near points of short-term resistance. The key to this style of trading is patience and waiting for price to resume back in the direction of the trend. To help in the timing of placing a market entry, traders normally will employ the use of a technical indicator such as an oscillator.
Oscillators are trading indicators that track price from a defined center point over a predefined number of periods. Below we can see CCI (Commodity Channel Index) on a 5-minute chart. Retracement traders will first wait for CCI to reach an overbought level over +100 in a downtrend. This overbought reading indicates that price has made a relative high for the chart, and traders will now look for opportunities to sell when price begins to decline again. Normally, a crossover methodology is used with traders selling the market when CCI dips back below +100.
NZD/USD CCI Entries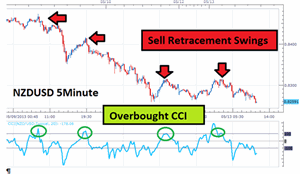 (Created using FXCM's Marketscope 2.0 charts)
Click to Enlarge
As you can see, retracement swings can be an effective way for forex scalpers to approach a strong directional market. However, it is important to note that short-term trends will often come to an abrupt conclusion. In the event that price begins to change direction and create higher highs in a downtrend, stops should be placed on all positions. Traders scalping retracement swings can identify great risk/reward levels by placing stops above the swing highs previously used for entries. This way all sell-based positions are exited in the event price attempts to break upwards to higher highs.
By Walker England, Trading Instructor, DailyFX.com