Gravity: EUR Defies It, USD Yields to It
06/19/2013 9:00 am EST
Focus: CURRENCIES
The US Dollar Index is trying to recapture the 200-day moving average, writes Cody Tafel of Minyanville.com, but it does not act well.
The US Dollar Index has now seen consecutive closes below the 200-day moving average, which is just above the 81 level. While it does look like it is trying to turn higher in the short term, it looks like this trend has officially turned lower, which is unfortunate for my prior bullish calls on the US dollar.
As Jeff Cooper often says, "Fast moves come from false moves," and the US dollar certainly sold off quickly after failing to hold the breakout levels above 84. I am now on the sidelines of this trade, and will most likely watch for a rally to short. We'll have to see if the DX can retake the 200-day moving average in the short term.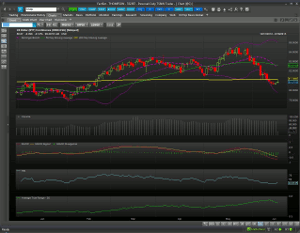 Click to Enlarge
The euro has continued to defy gravity, and it is now offsetting the larger bearish head-and-shoulders pattern I have been watching for most of this year. It seems like a lot of shorts are now caught the wrong way, and I think this trend could continue to squeeze higher although it certainly does not make any sense to me. But sometimes that is when you see the strongest trends! Again, I am on the sidelines here, and if anything, would probably be a buyer on a pullback. See the squeeze below.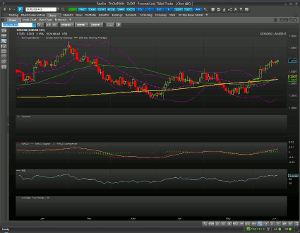 Click to Enlarge
The commodity currencies are really the only underperformers against the US dollar in the currency market right now. I continue to think this is probably the best place for USD long exposure right now. The Canadian dollar looks especially interesting to me as it has not had the break on the downside like the Aussie dollar or the New Zealand dollar. See the setup below.

Click to Enlarge
I think the Canadian dollar looks like a very good risk reward short at current levels, and it seems to be rolling over below the 200-day moving average.
By Cody Tafel, Contributor, Minyanville.com