Trading a Weak Australian Dollar
06/25/2013 9:00 am EST
Focus: FOREX
Using this simple analysis technique, you will find that the Australian dollar is weak against its other main counterparts offering a strong trend to trade, writes Jeremy Wagner of DailyFX Education.
In our classes and Webinars, we frequently talk about relative strength…not the relative strength indicator, but relative strength of currencies. This means we need to analyze them in relation to the other currencies to find out which currencies are showing relative strength and which ones are showing relative weakness.
The analysis is fairly simple and straight forward. The process can take about 15-20 minutes and doesn't need to happen but once or twice per week.
Recent volatility has begun to kick up, but the trends in currencies can be long and strong. Current trends are no different as the Australian dollar is an example of that.
Open a four-hour price chart with a 200-period simple moving average (SMA) as the filter. Simply take note of each currency in the pair and its relative performance versus the 200 SMA.
Analyzing Currency Strength (Created using FXCM's Marketscope 2.0 charts)
Click to Enlarge
As a matter of fact, when making a note of the tally of strong versus week this afternoon, we discovered that the Aussie was down and weaker against 7 other main currencies (USD, JPY, CAD, EUR, GBP, NZD, CHF).
This makes sense with the easing monetary policy for the Reserve Bank of Australia that has been in play for the past couple years. Additionally, the weakness from China is dragging the value of the Australian dollar lower due to the strong trade relationship they enjoy together. The weakness is duly noted and the better opportunity out there in my opinion is to sell the Aussie.
Simple Forex Analysis Currency Strength Results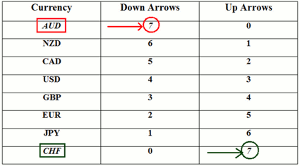 Click to Enlarge
Trading the Aussie can be done in several different methods. One would be trading a specific currency pair where you are selling the AUD. If you select this method, you would want to simultaneously look to buy a relatively strong currency, which according to the chart above would be the CHF or JPY. This is a very common method practiced by experienced traders who would sell the AUD/CHF or sell the AUD/JPY pair. They would not blindly enter, but use their strategy's buy and sell rules to enter and exit the trade.
Another way to sell the Aussie would be through a basket of currencies. There are several advantages to trading baskets with one of the most important advantages being diversification. By choosing a currency rather than a pair, you have your eggs spread across multiple buckets without being exposed solely to a specific currency pair. Diversification becomes especially important during high volatile market conditions including news events.
That way, if there is a surprise announcement by the Bank of Japan where the AUD/JPY actually strengthens, which is contrary to our trend analysis above, then our account is not fully exposed to the surprise news.
Trading baskets can be handled in many different ways. For example, let's assume you normally trade a 100k position but you want to spread your trade across four Aussie pairs. Then, utilize a 25k position for each of the four pairs giving you a total exposure of 100k.
Bring a powerful basket approach to trading strong forex trends. This simple analysis technique will help you identify a relative strong or relative weak currency to trade.
By Jeremy Wagner, Head Trading Instructor, DailyFX Education