Bending vs. Breaking the Rule
09/26/2013 9:00 am EST
Focus: FOREX
Vadim Pokhlebkin of ElliottWave.com details how one can apply an important rule of Elliott to the recent price action in euro-pound.
Today, we'll focus on one important nuance of contracting triangles that has cropped up in the euro-pound cross rate.
You probably know the rule of Elliott that says, "Wave 4 never ends in the price territory of wave 1." That's the so-called no-overlap rule for impulses, which are five-wave moves. Yet every rule has an exception…and this one is no exception.
As Frost & Prechter's classic book Elliott Wave Principle - Key to Market Behavior puts it,
"In an impulse, wave 4 does not enter the price territory of (i.e., overlap) wave 1. This rule holds for all non-leveraged 'cash' markets. Futures markets, with their extreme leverage, can induce short-term price extremes that would not occur in cash markets. Even so, overlapping is usually confined to daily and intraday price fluctuations and even then is rare."
Today, forex markets are highly leveraged, despite being called spot forex (or cash forex, to differentiate them from forex futures.) So, does the wave 4/1 overlap exception apply? The answer is a cautious yes, especially in contracting triangle formations.
Triangles—which consist of five sub-waves labeled A-B-C-D-E—most often form as a wave 4. Wave A is the triangle's widest part—and its wave A that may sometimes overlap wave 1.
Here's how Robert Kelley, editor of the cross rates section of our Currency Specialty Service, put it (partial wave labels shown; the wave 4/1 overlap is circled in red):
EUR/GBP
After reviewing the chart thoroughly, there is a way to count the recent decline as a "five."
This is an opportunity to note that, while rarely seen, it is allowable for wave a of a triangle to overlap wave I—as long as wave e of the triangle ends below (in this case) wave one.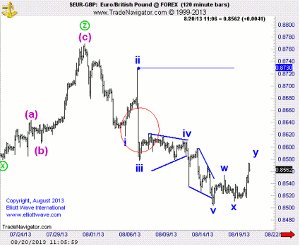 Click to Enlarge
The updated chart shows this interpretation, followed by an ending diagonal down in wave v. From there, a corrective rally has been unfolding and could be near an end. -Robert Kelley
To be sure, any wave 4/1 overlap is highly suspect. A rule is a rule. But, sometimes, you have to use your judgment. That is, would all the other rules and guidelines for a "perfect wave" (Elliott Wave channel, Fibonacci proportions, alternation, etc.) be met if you allowed just a little overlap?
If so, then perhaps allowing wave 4 to overlap wave 1 provides you with the best interpretation of the price pattern.
By Vadim Pokhlebkin of ElliottWave.com