How to Trade a Dovish or Hawkish Central Bank
09/20/2013 9:00 am EST
Focus: FOREX
Tyler Yell of DailyFX.com discusses it means when a central bank is said to be either dovish or hawkish, and how one can trade either scenario.
"The monetary policy of the United States has a major impact on global liquidity and capital flows and therefore, the liquidity of the US dollar should be kept at a reasonable and stable level."
-Hu Jintao, Former President of China
Monetary policy and therefore interest rates are the most likely mover of the currency markets. Therefore, it's important to know what specifically it means when the central bank of a currency is said to be dovish and how that can help you trade the FX market going forward.
Around 1400 ET on September 18, 2013, in what could have been Ben Bernanke's last public appearance as Fed Chairman since taking the role in 2006, we were informed that the Fed has taken a more dovish stance. This sent the US dollar falling against every currency in the world including the uber-weak Japanese yen.
This, in turn, sent interest rates like the 10-year Treasury lower, as well, which can be a proxy for currency strength and the currencies' respective borrowing rates.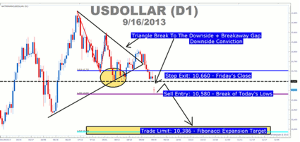 Presented by FXCM's Marketscope Charts
Click to Enlarge
Dovish Move By Fed Dropped US Dollar Quickly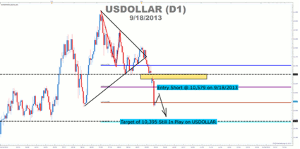 Presented by FXCM's Marketscope Charts
Click to Enlarge
What Is Meant by a Dovish Central Bank
A dovish central bank, which gets its namesake from a safe and docile bird, has a few main goals that you should always keep in mind, that is, to revive or jumpstart the economy after a slump. First, by keeping interest rates low, they allow money to move freely within the economy, which allows the economy to, hopefully, pick itself up by its bootstraps. Secondly, a dovish central bank, like the US Federal Reserve currently is labeled, takes on different means of stimulating the economy like buying up underwater or underperforming assets on a bank's balance sheet that in turn hold the banks back from operating at full speed. This second type of stimulus is known as quantitative easing or QE.
Interest Rates of the Fed Since Jan 2008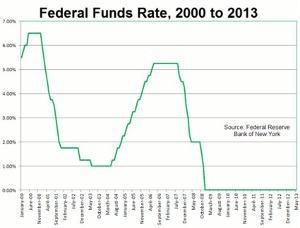 Source: Federal Reserve Bank of NY
Click to Enlarge
On Wednesday, the Fed said it needs more economic evidence before adjusting the bond buying program or QE. In simple supply and demand terms, this means that US dollar supply is overflowing, which assisted the US dollar weakness seen earlier Thursday as the EUR/USD moved higher 200 pips to 1.3539 while USD/JPY tests multi-week lows near 97.80.
The current dovish Fed also said that until the data shows a marked improvement that a reduction in their dovish stance will not falter. This data dependent view further shows that the Fed is looking to a rebound in the job market and consumer sentiment before considering a move to a hawkish standpoint.
NEXT PAGE: Trading Either Scenario
|pagebreak|
What is Meant by a Hawkish Central Bank
A hawkish central bank, which gets its namesake from the predatory and unsympathetic nature of the hawk bird, has a few main goals that strive to prevent an economy from overheating likely due to their prior dovish stance. A hawkish central bank is likely less concerned with economic growth than with pressure brought about by the high inflation rate that can spin an economy out of control.
Last week, the Reserve Bank of New Zealand or RBNZ took the most hawkish stance among the developed economies as they provided a timeline for raising the central bank rate to prevent inflation from getting out of hand in their improving economy.
Other central banks that are on the verge of showing a hawkish bias after improved economic data is the Bank of England, which naturally has brought the GBP near the top performing major currencies along with the New Zealand dollar.
How to Trade a Hawkish or Dovish Central Bank
As a forex trader, you naturally want to try and identify a relatively hawkish central bank like the Bank of England for the GBP or the Reserve Bank of New Zealand for the New Zealand dollar. After you've done that, you can next find a dovish central bank like the Federal Reserve for the US dollar or the Bank of Japan for the Japanese yen. Naturally, the hawkish currency will generally appreciate on the FX market compared to other dovish currencies that are diluted via inflation.
Once a Central Bank Intention is Made Known, Look to Baskets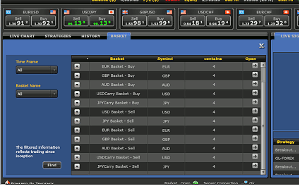 Presented by FXCM's Mirror Trader
Click to Enlarge
Another option, if you've clearly identified a hawkish or dovish central bank, is to trade a currency basket. A currency basket allows you to trade a single currency against a host of other currencies so that you can either buy or sell that currency based on the central bank's intentions for that currency. Therefore, a newly hawkish currency with rising interest rates should be sought to buy that currency basket and a dovish currency with low interest rates should be sought out to sell that currency against others, as it is likely to fall like the US dollar did Thursday.
By Tyler Yell, Trading Instructor, DailyFX.com