Remember the Month of September for the Long-Term
10/06/2014 9:00 am EST
Focus: FOREX
Tom Cleveland on ForexTraders.com reviews how the "Sell in May and Go Away…" scenario played out to the letter this summer, which demonstrates that forex traders need to know some old adages really do still apply, even in today's modern world.
Can anyone still hear echoes of the chorus sung by traders back in April? It went something like this, "Sell in May and go away and don't come back 'til Labor Day." A pretty simple ditty that reminds us all that summer high jinks are on the way, when most of the heavy hitters in every market are much more concerned about their holiday and entertainment plans than in the various valuations in their respective portfolios. The objective is to reduce the risk level in the springtime before most expect, then coast the next few months until you have to return in September to get active once more.
Strange behaviors take over during the summer when lower level professionals take over the trading duties back home. These fill-ins are not apt to take many chances. No sense in putting your job in jeopardy when the boss is away. The rule becomes to follow established trends, no matter what. Immediate reversals only transpire if the herd begins to change direction. The result can become boring to the max, with an occasional spurt in one direction, only to be offset when the majority of other traders refuse to go along. Before long, everyone is singing, Home on the Range, as tight boundaries prevail.
And then comes Labor Day. The boss is back in town. He has had many months to think about his strategy and commiserate with his other boss-like buddies over fresh martinis. It is now time to put the pedal to the metal. Believe it or not, this lengthy scenario played out to the letter this year, such that September witnessed dramatic reversals in previously accepted high valuations in major pairings with the US dollar, from the euro and pound, right on through to the yen and Aussie. The USD literally stepped hard on its other trading partners, thereby establishing its leadership role going forward.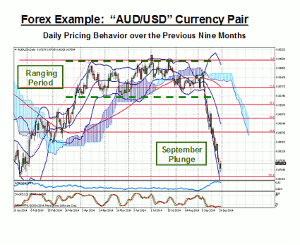 The Daily Ranges and Comparison to 22-Day Average.
Click to Enlarge
The Aussie dollar chart was chosen, since it so dramatically matches the details of the foregoing five-act play described above. The Aussie (AUD/USD) had been on a tear that few could explain, only to settle into a quiet ranging period. Attempts to break the range failed on occasion, but, in September, it plunged, leaving regions as high as $0.95 to fall down to $0.86. The EUR, GBP, and JPY have very similar chart patterns for the period, although each of these other currencies began their declines in late July or early August. Perhaps, a few vacationing bosses called home to get the ball rolling ahead of time.
Yes, there were fundamental reasons that support these actions in the marketplace, but the lesson to be learned by forex traders is that some old forex adages really do apply, even in today's modern world. Here are a few examples:
"What goes up must come down." Okay, everyone knows this one, but a few months ago, no one was shorting to any large degree, although some short interest in the euro had begun to take shape;
"Ranging behavior never lasts forever." As dull and boring as a ranging market can be, the longer it ranges, the bigger the breakout. You just have to wait for it;
"Major reversals happen after long holiday periods." Statistical studies support this axiom. The logic goes that investors have time to re-think their positions and act upon their new thinking.
Next year may be different, but the key goal in forex trading is to shift the odds in your favor by recognizing patterns early enough to take advantage of the opportunities that await you. As you assess future market conditions, remember that being forewarned is being forearmed.
Risk Statement: Trading Foreign Exchange on margin carries a high level of risk and may not be suitable for all investors. The possibility exists that you could lose more than your initial deposit. The high degree of leverage can work against you as well as for you.
By Tom Cleveland, Contributor, ForexTraders.com