Goldman Sachs: "We Remain Firmly in the Dollar Bull Camp"
10/15/2014 9:00 am EST
Focus: CURRENCIES
Adam Button of ForexLive.com shares a quote from Goldman Sachs that expresses their analysts' current sentiment towards the US dollar. Adam also shares why he feels that the dollar rally—while impressive—is nothing special in the long-term.
Currency analysts at Goldman Sachs say genuine US dollar strength has yet to kick in.
"Dollar bulls are having a moment of soul-searching. We see some of this as inevitable, given that the dollar has strengthened almost 8% versus the G10 over the last three months. However, we do not think the recent rally diminishes the potential for the dollar to rise from here. This is partly because the dollar remains 'cheap' in the larger historical picture, even after recent moves.
More importantly, the fundamental story underpinning dollar strength remains in place and, if anything, is stronger now that growth outside the US looks to be weakening. This strengthens the case for cyclical outperformance of the US vis-à-vis its G10 peers, which should continue to move front-end rate differentials—the main driver of the dollar historically—further in support of the USD.
The natural question at this point is whether—after such a sharp move—we are still dollar bulls or whether the sharp rise in recent months has tempered our enthusiasm. We remain firmly in the dollar bull camp.
The reason for this is that dollar strength is something of a misnomer for what has happened in the last few months, because the dollar owes much of its recent rise to an unusual confluence of idiosyncratic factors….In other words, genuine dollar strength has yet to kick in, especially given that the dollar remains weak in the larger historical picture."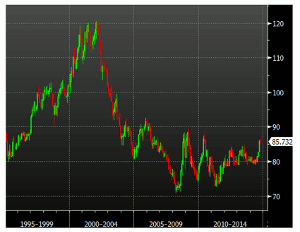 Click to Enlarge
The dollar rally feels impressive but in the long-term it's nothing special…yet.
By Adam Button, Editor, ForexLive.com