The Daily Wave Analysis
10/24/2014 9:00 am EST
Focus: CURRENCIES
The staff at Admiral Markets uses daily wave analysis to review the prices of three major currency pairs to determine if they look more likely to break or bounce next and why.
Currency Pair EUR/USD
The EUR/USD break of the support trend lines (greens) could indicate a completion of wave 4 (orange) at the most recent top. In most cases, however, wave 4s take longer to compete in terms of time, which is the reason that price could be expanding a correction with WXY (purple).

Click to Enlarge
If the EUR/USD is back into a downtrend, then price would need to accelerate below the horizontal support (green). Otherwise, it could be a correction for a bounce back up.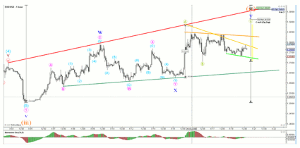 Click to Enlarge
Currency Pair GBP/USD
More confirmation is needed before it can be concluded that the GBP/USD has completed wave 4 (red). One more expanded correction is possible (wave WXY dark red).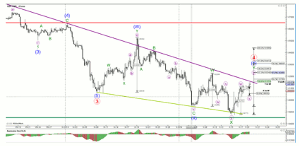 Click to Enlarge
It will be interesting to see whether price breaks or bounces at the orange and green trend lines.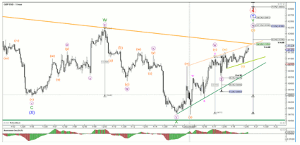 Click to Enlarge
Currency Pair USD/JPY
The USD/JPY broke the resistance trend line (light red,) which is the reason that the wave count is bullish as long as price stays above support and does retrace lower than the 61.8 Fibonacci retracement.

Click to Enlarge
Price is in a chart pattern named the contracting triangle. These trend lines (green and purple) will show interesting break or bounce spots.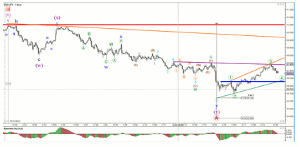 Click to Enlarge
By the staff of Admiral Markets