USD/JPY Buyers at a Support Area
10/28/2014 9:00 am EST
Focus: FOREX
Since this currency pair has dipped down to the lower trendline, Greg Michalowski, of ForexLive.com, studies the charts to decipher where it might be headed next given the market's uncertainty and in light of all the economic data coming out this week.
The USD/JPY has dipped down to the lower trendline connecting recent lows, the 100-hour MA (blue line), 38.2% retracement, and lower trendline off October 15 low (see chart below). Those levels come between 107.50-62.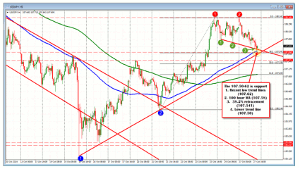 Click to Enlarge
USD/JPY has support at 107.50-62 off the hourly chart.
This is the first big test for the buyers from last week, who pushed the price up from a low of 106.344 to a high of 108.34. The high reached was the highest level going back to October 8.
On a move below this support cluster, the 50% at the 107.293 and 200-hour MA and 61.8% at the 107.045 are the next targets. Patient buyers would likely lean against the 200-hour MA on the first look. If the level holds, look for the 108.00 and then the 108.34 highs to attract sellers.
This week is more about the US economic data and events. Last week saw the stocks rally strongly and that led to further exiting of the risk trade (including the move out of the relative safety of the JPY). The stock market is little changed in trading Monday but there is a bunch of earnings to get through including Twitter (TWTR) (today), Facebook (FB) (tomorrow), and LinkedIn (LNKD) (Thursday), just to name a few. Durable Goods in the US comes out Tuesday, the FOMC on Wednesday and GDP for 3Q are also very key releases and events that will help or hurt the USD/JPY this week.
The FOMC will be key but the impact on the USD/JPY could be sticky.
If the Fed is more dovish, it should lead to a lower dollar. However, it could also lead to a move higher in the stocks as traders cheer on a Fed that is farther away from tightening. Stocks might also see the ECB being the new liquidity source in lieu of the Fed. That could lead to a higher USD/JPY as well (less need for the relative safety of the JPY). I don't think the Fed will be more hawkish, even though QE3 is scheduled to be halted.
So, the dollar may go lower against other currencies but remain supported against the JPY.
The uncertainty should keep the traders cautious until the events are more known and understood. Traders can lean against levels to define risk but I would think that both rallies and dips will be sold and bought given the uncertainty from all the stuff.
By Greg Michalowski of ForexLive.com