Volatility Has Reappeared in October, but Is Its Return Just a Passing Fad?
10/30/2014 9:00 am EST
Focus: FOREX
Most analysts at this stage are forming a consensus that volatility is here to stay, at least for the foreseeable future through yearend, but Tom Cleveland, on ForexTraders.com, illustrates why he doesn't think that means that the forex trader should go hide in a cave.
The moaning and groaning has stopped in financial markets, at least those cries of anguish caused by a total lack of volatility over the summer months. Volatility has returned in a big way in October and now a cacophony of new moans and groans are filling the hallways because of its reappearance. Sounds like traders are always a complaining lot, even when they get what they want: more volatility generally means more opportunity for trading gains, if you are an accomplished trader.
As we all know, financial markets are heavily correlated, since the same fundamentals are always at work, no matter the venue. Forex pairs dance in tandem with the S&P 500 index (SPX), as well as with bond prices in general. The intensity of the dancing is in direct proportion to associated risk parameters, a fact that is beginning to raise eyebrows. Yes, there have been a plethora of recent articles on this topic, foreshadowing doom and gloom on the horizon, but, when a central banker goes on the record publicly, then it is time to look a little closer.
Guy Debelle, an Assistant Governor of the Reserve Bank of Australia, recently spoke before a gathering of bankers in Sydney, Australia and highlighted his concerns in a compelling speech.
The chart below introduced a historical perspective on the topic of volatility in financial markets and how well correlated they are: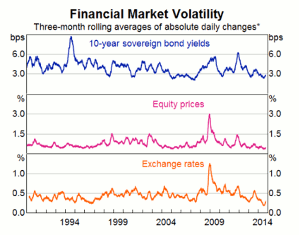 Click to Enlarge
The sources of the data were drawn from Bloomberg and Reuters data bases. You should also note that the "Three-month rolling average" aspect of the chart has severely dampened the spike that is underway in October but a simple visual trend upwards appears to be forming, nonetheless. In some regards, volatility has a way to go before hitting historical mean values.
Is October any different than any other month? One might think that the "Sell in May and go away" crowd might influence seasonal trends and the following chart confirms this hypothesis: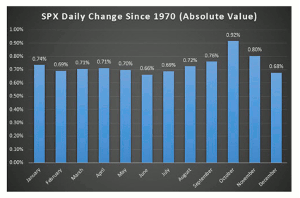 Click to Enlarge
The data may be for stocks but, as noted earlier, forex markets do correlate closely with the S&P 500 since those stocks derive nearly half of their revenue from activities in the global marketplace. October does stand out, almost like the "Head" of an H&S pattern. You might be inclined to expect a decline in volatility in November and December, based on this chart alone, but these absolute averages span nearly fifty years of market behavior and the Great Recession and the years that have followed have been anything but average or normal.
Most analysts at this stage are forming a consensus that volatility is here to stay, at least for the foreseeable future through yearend. The support for this assumption is that there are already too many global uncertainties in the market (i.e., GDP growth, interest rate changes, geopolitical tensions, deflation, commodity prices, etc.) that will not resolve themselves in so short a period of time. There is, however, no need to go hide in a cave. Volatility this October is barely over 1%, not nearly as bad as in 2008 and 2009 when 3% daily changes were almost the norm.
What is Debelle's major concern? He says quite succinctly that, "There are also some misplaced perceptions amongst market participants about the degree of liquidity present in some market segments. That strikes me as a dangerous combination and unlikely to be resolved smoothly." In other words, if fear and uncertainty run rampant, some markets may seize up, as in 2008/2009 when sell orders could find no buyers.
Is Debelle correct? When and if the selling occurs, the Australian dollar will have nowhere to go but down.
Risk Statement: Trading Foreign Exchange on margin carries a high level of risk and may not be suitable for all investors. The possibility exists that you could lose more than your initial deposit. The high degree of leverage can work against you as well as for you.
By Tom Cleveland, Contributor, ForexTraders.com