How to Tell Where Other Traders Have Placed Their Stop and Buy Orders (Part 3)
04/01/2009 12:01 am EST
Focus: STRATEGIES
On the drive to new lows, some traders actually got short, and now they are being forced to liquidate their short positions. Price rallies hard on the combination of traders covering their short positions and traders who wanted to get long but ended up stopped out now getting long at the market.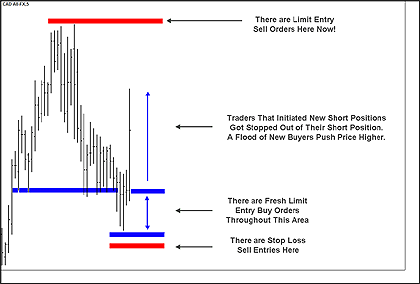 Believe me, chasing the market is never a good idea! This chart updates the areas of support and resistance a bit, adjusted for the "wash and rinse" area. Let's see if we can identify an area for a high-probability trade set up.
Price continues to climb higher. It's possible price will bounce around within this trading range, but in my mind, it's more likely price will interact again with the areas I have marked as structure hiding limit buy and sell areas. If it gets to one of these areas, we'll try to take advantage of this market map.
More tomorrow in part 4.
Timothy Morge
timmorge@gmail.com
www.medianline.com
www.marketgeometry.com