How to Tell Where Other Traders Have Placed Their Stop and Buy Orders (Part 4)
04/02/2009 12:01 am EST
Focus: STRATEGIES
Now I see something that interests me: If price climbs just a little higher, I will sell the Canadian dollar just below where the original double tops formed. There should be a good amount of limit entry sell orders above this area, since it has been tested several times and acted as very good resistance.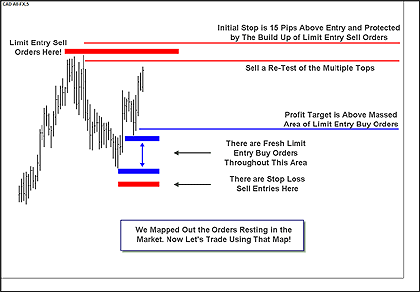 If I am filled on my short entry, my initial stop loss will be 15 pips higher, which will be well above the area that should be holding the resting limit sell orders. To be honest, if price goes much higher than that, I no longer want to be short!
What can I use as my downside logical profit target? Price really did stop at is natural support. The "wash and rinse" move by the savvy traders extended the selloff a bit, but I still think the first area of support will be hard to get below. If I manage to get short, I'll take my profit as price approaches this first area of support, right above where I think the limit buy orders are hiding.
Price rallied a few bars higher, testing the earlier highs but not making a new high for the move. Because I chose a more aggressive entry in front of the limit sell orders, I managed to get short the Canadian dollar before it turned lower.
More tomorrow in part 5.
Timothy Morge
timmorge@gmail.com
www.medianline.com
www.marketgeometry.com