How to Use the TICK Indicator to Predict Market Rallies
08/28/2009 12:01 am EST
Focus: STRATEGIES
When I spoke at a recent Traders Expo, I presented a discussion of the following chart below. Let's take a look at it and learn two lessons from integrating the TICK with the SPY 30-minute price chart from where this recent strong rally began.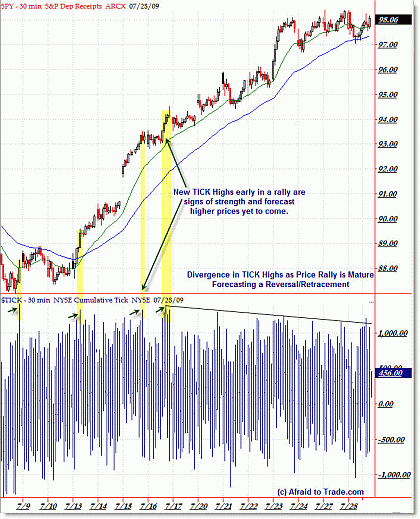 Click to Enlarge
1) At the beginning (or birth) of a new uptrend (or swing), the TICK (and momentum oscillators) will often register new highs ahead of, or concurrent with, new price highs.
This is a sign of strength, and continued, higher market internal readings (from TICK, breadth, etc.) place the odds squarely in favor of higher actual prices yet to come as price rallies. In this way, we are using market internals as confirmation of higher prices with the expectation of continuation.
2) At the end of a mature uptrend, the TICK (and momentum oscillators) will often mark divergences, which serve as a non-confirmation and hint that the swing is coming to an end (leading either to a standard retracement leg or full reversal).
The rally shown on the chart had persisted for almost three weeks, and it was undoubtedly "long in the tooth." However, this does not mean that price has to reverse—just that odds favor a retracement/reversal swing as opposed to continuation of higher prices once we start putting in lengthy divergences relative to price.
Remember, we trade in probabilities, not certainties.
Notice how the TICK highs of the day (session) are registering at lower highs as we form new price highs on the 30-minute chart. This pattern is also evident on the 60-minute chart.
By Corey Rosenbloom of AfraidToTrade.com