Ominous Rounded Arc Forming on NASDAQ
04/01/2010 12:01 am EST
Focus: STRATEGIES
Those who know me know that one of my favorite price patterns is the "rounded reversal," or "rounded arc" pattern, one of which is now forming clearly on the NASDAQ index. Let's take a look.
NASDAQ Daily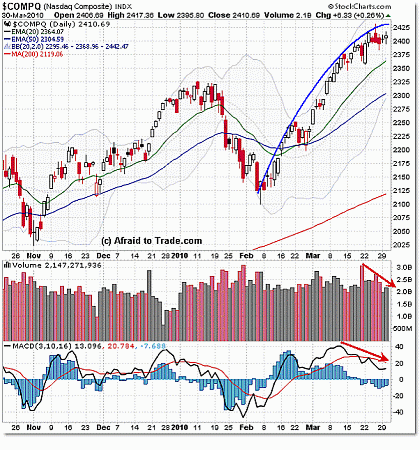 Click to Enlarge
If you look slightly backwards to the beginning of January 2010, you see a shorter-term rounded reversal, or arc formation (I didn't draw it) on the NASDAQ that preceded the sharp selloff into the February low.
We're seeing a much larger pattern form now, as labeled and seen best on the 60-minute chart.
But before stepping to the lower time frame, realize that price is in a strong and solid uptrend (as any recent short seller can tell you), but the momentum may be coming to the apex, or highest point.
We're already seeing the 3/10 momentum oscillator form lengthy divergences with price, and the price itself is forming the arc (or slow down) pattern. Volume is also (slightly) trailing off, but none of this has stopped the bearish charge yet.
Now let's drop to the 60-minute chart to see this pattern more clearly.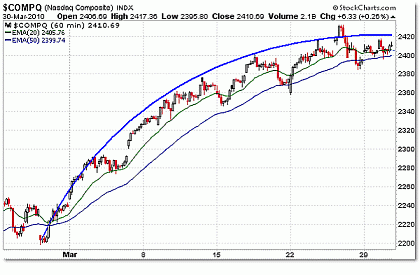 Click to Enlarge
There's two ways you can visualize the arc pattern.
First, you can look at the blue arc I've drawn with the drawing tool (which I prefer), or secondly, you can look at the natural arc in both the 20-period EMA, and especially the 50.
Moving averages smooth out price swings and reveal the trend, or price pattern, without all the jagged edges (price spikes and bumps).
You can see that both reveal a slowing down or narrowing of price after the end-of-February low (not the full arc as shown on the daily chart).
What's the Implication?
Longs might consider taking profits in the event that price does complete a full rounded reversal and starts to head lower to complete the pattern. This would be triggered with a steady move under 2,380, which might take a few more days to complete.
Shorts would probably want to wait for a break to occur, rather than step in front of this bullish locomotive; though aggressive and risk-seeking traders would want to do just that.
Keep in mind that this seemingly non-stop rally has continually mocked those who tried short sell the top, so it would be an aggressive move to short now.
The pattern would be broken/failed with a continued price rise and steepening of the angle such that a right side arc does not actually form, so be on the lookout for that.
By Corey Rosenbloom of AfraidToTrade.com