Areas of Fibonacci Retracement on S&P
05/24/2010 10:14 am EST
Focus: STOCKS
We've been watching the big-picture market retracement rally for some time. From the 2007 S&P 500 Index (SPX) (SPY) highs to the 2009 panic lows, we've now regained a significant amount of the losses. The problem? The 50%, 61.8%, and 31.8% Fibonacci retracement levels now become potential resistance levels to further market upside.
Take a look at the SPX weekly chart below, which we've discussed previously:
SPX Weekly Chart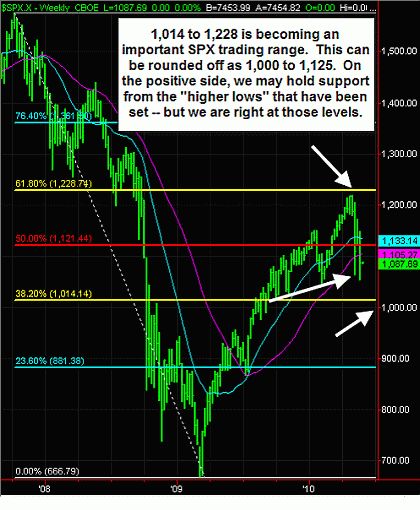 Click to Enlarge
You can see that the recent market correction began after we approached the 61.8% retracement level around 1,228. We've now busted down through the 50% level of 1,133, and it looks like a test of 1,014 (roughly 1k) is approaching. One potential positive to note is that we are right around a key level if you draw a trend line of the lows from late 2009. If this area holds as support, we could see a weekly bounce to 1,150 or 1,200.
Remember though, these are longer-term weekly charts and the trends are fairly wide, as are the weekly high/lows.
By Moby Waller of BigTrends.com