Warning: Bounce Could Form a Right Shoulder
05/27/2010 12:01 am EST
Focus: STRATEGIES
Recently, we've tried to play this oversold bounce. I have 20% of my longs left from last week's cost average buy, but things are already starting to get weak again.
This bounce is lacking power, and the more I look at it, the more it could be the right shoulder of a bearish head-and-shoulders pattern. In the chart below, I outlined the right shoulder, which could take the bounce back to the 1095-1115 area. But the market might not even get to that level, so taking off some trading longs today from late last week makes sense. We had a nice bounce in AAPL, BIDU, SNDK, VMW, NFLX, and I would take profits in those names for now.
A potential neckline is developing in the 1040-1060 area, and if we can't bounce and build this right shoulder, then it's possible that things could get ugly quicker than anyone would like. I would like to see this bounce continue and give us time to sell a better area.
The measured move is from the head (1200) down to the neckline (around 1050). That's 150 handles or so, and would take the measured move to around 900 with huge support around 860-880 as well.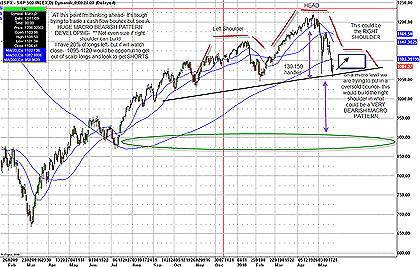 Click to Enlarge
I'm not a doomsday guy, but there are a ton of problems out there.
The problems in Europe by all accounts are only going to get worse. The issues plaguing the PIIGS countries are just starting to spread, and it remains to be seen what affect the steep austerity measures have on these fragile economies. China now has some question marks, and its stock market is 20-25% off highs. Remember, this market led us up back in 2008, and its weakness could lead us down, too.
Our state-run pensions can explode at any time, and entitlements are way, way out of hand and need fixing. Our political system is flawed, and elections now are nothing more than a merry-go-round of power-hungry individuals promising change but delivering nothing. No party can get anything done with all the favors they owe to those who paid to get them in office.
On the charts, every sector is broken technically! Goldman Sachs fraud and the financial regulation bill are weighing on the banking sector. The headlines from the BP oil spill keep getting worse, and the government is taking a more harsh tone towards big oil each day.
We are looking at higher taxes across the board, not even for those who acted responsibly. We had a two-year stock market rally, but still have 9.9% unemployment. What happens if we drop another 1000 points? Unemployment could surge to 11.5%-12.5% easily.
The housing market is still very weak, and the commercial real estate market could implode in the near future. Big government is growing and making an assault on the private sector. I wish we would learn from what we see in Europe right now!
I'm only a technical analyst, but I see huge problems that aren't going away any time soon. Nobody is stepping up to fix the problems, only intervening to pass the buck down the road.
By Scott Redler of T3Live.com