The Right Way to Trade Company Earnings
10/13/2010 12:01 am EST
Focus: STOCKS
In Jack Schwager's book, Market Wizards, one of my favorite interviews is with Paul Tudor Jones. I highly recommend reading it because Jones has all the qualities of a successful trader: Confidence, flexibility, intensity, emotional control, lack of ego, ability to cut losses, and consistent returns with minimal drawdowns. Jones believes "The most important rule in trading is: Play great defense, not great offense."
I especially think of this quote when trading stocks over earnings reports. Jones says "Never trade in situations where you don't have control. For example, I don't risk significant amounts of money in front of key reports, since that is gambling, not trading." Although Jones was mainly referring to his futures positions, this advice can also be applied to stocks or any other trading instruments. (This strategy does not really apply to long-term investors who are holding positions over several quarters of earnings or longer.)
Since we are just starting earnings season, I want to discuss a strategy that I find fairly successful when trading stocks around news releases. It involves "Buying the rumor and selling the news." In other words, I find that many stocks "run" into their earnings dates and tend to sell off after the release, especially if the stock has made decent gains in anticipation of the news. Therefore, part of my research during earnings season is to find out exact earnings dates and to try to take advantage of possible moves prior to those dates. One thing to keep in mind is that I am not blindly buying stocks a week or two before earnings. My strategy begins with sound fundamental companies and combines buying them near strong technical areas.
Here's a real-time example: Baidu, Inc. (BIDU) closed Monday (October 11) at $99.74. The company reports earnings around October 26 (they should post the exact date soon). I think you could buy it here and use $95 as your stop with a possibility of the stock running to $110-$115 prior to its earnings release. By the way, this is not a recommendation! I am simply trying to give an example of 1) Starting with a strong fundamental company; 2) Buying it near a decent support area, and; 3) Trading it in anticipation of a potential run into its earnings release. If you trade this idea, please use a stop and protect your portfolio if the stock turns against you.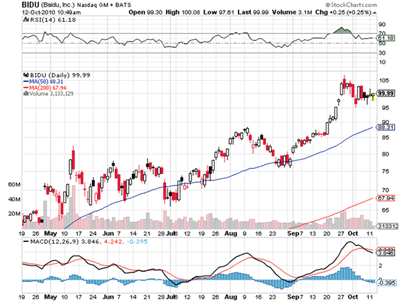 Click to Enlarge
There are situations where I will hold a stock over earnings. For example, I like to find "sleeper" companies that are not widely followed by analysts. In other words, I would never play Microsoft (MSFT) over their earnings because 400 analysts follow them and their estimates are in a fairly tight range. I prefer finding companies with a few analysts covering them, thus making upside surprises more likely. One very important note: When I do hold a stock over earnings, I keep a smaller-than-normal position size. Again, I'm just "playing defense" and not concerned with missing potential upside. If you are adamant about holding a stock over earnings because you have done your research and you are 100% convinced that it will beat estimates, my best advice would be to hold a position that will allow you to sleep at night in case the stock gaps down 10%-20%.
In summary, do your due diligence, find out the earnings dates of the stocks you are trading, try to take advantage of run-ups into earnings, and if you decide to hold over earnings, keep your position sizes small. Remember, play defense!
By Joe Fahmy, trader and blogger, JoeFahmy.com