Does Your Strategy Match Current Trader Sentiment?
11/17/2010 12:01 am EST
Focus: STRATEGIES
While online traders typically hold for shorter time frames than traditional investors, forecasting the direction of the markets is an important component of any overall trading strategy. Because markets tend to be driven as much by participant sentiment as technical analysis and news, MoneyShow.com has been gauging trader and investor sentiment for several years at each Traders Expo.
A survey conducted by Traders Expo, the largest convention for active traders and investors (happening this week in Las Vegas), was compiled to determine trader sentiment about the direction of the markets heading into the final month of the year and beyond. Over the course of several days, traders were asked their opinion about a variety of financial issues, including the overall direction of the stock market through the remainder of 2010, their opinion on the value of oil, gold, and the US dollar, and interest rates and inflation.
Some notable results were:
Over 50% of the responding traders were bullish on the prospects of the S&P 500 index, believing it will continue to rise in the remaining weeks of 2010: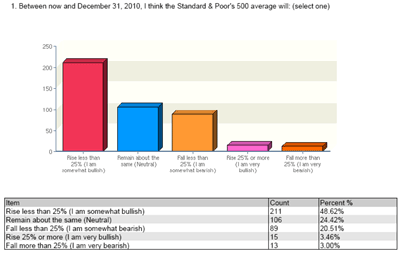 Click to Enlarge
37% of responding traders stated they would be making more trades than they did at this time last year, while nearly 45% stated they would make about the same number of trades: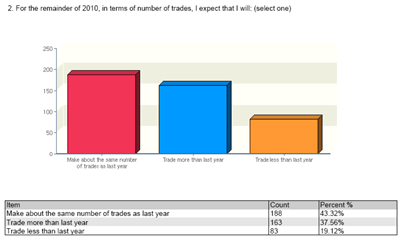 Click to Enlarge
90% of responding traders believe the Federal Reserve will make no further changes to interest rates: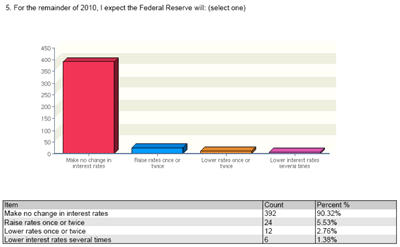 Click to Enlarge
NEXT: See More Results from This New Trader Sentiment Survey
|pagebreak|
55% of responding traders stated they would make more trading profit in 2010 than they did in 2009:

Click to Enlarge
The majority of responding traders felt that both gold and oil prices will continue modest gains into the final weeks of 2010:
GOLD: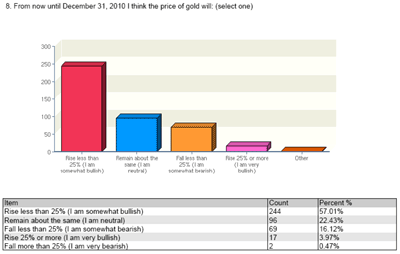 Click to Enlarge
CRUDE OIL: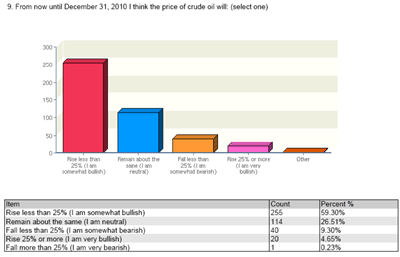 Click to Enlarge
Traders continue to diversify their trading, and while stocks lead the pack in terms of what markets they trade, options and forex continue to be popular trading vehicles: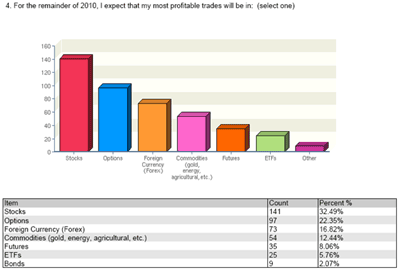 Click to Enlarge
Finally, when asked what percentage of trades from now until December 31, 2010 will be "shorts," 25% of traders stated "none," matching the overall bullish sentiment. However, the percentage of short sale trades continues to grow in the MoneyShow.com trader sentiment survey as traders get more comfortable with that strategy.
Percentage of my trades that will be short sales will be: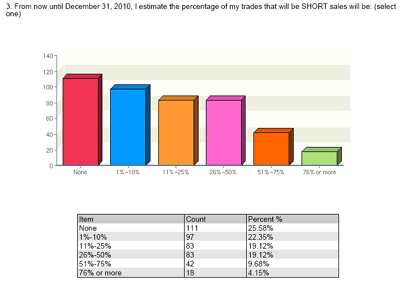 Click to Enlarge
Do your current trading strategies match the overall sentiment? Contrarian traders hope not, but either way, I believe it's important to understand what your fellow traders are thinking.
By Tim Bourquin, trading content director, MoneyShow.com