Five Ideas That Made Traders Rich in 2010
12/30/2010 8:57 am EST
Focus: STRATEGIES
2010 has been a very good year for traders who picked the right markets early in the year and stuck with those bets. Those who were bold enough to add to their positions during pullbacks profited even more.
In fact, it's been a year when traders could win simply by acting more like investors—sticking with their ideas rather than playing the numbers.
Sure, daytraders eliminated the risk of overnight moves by closing out their positions each day. But longer-term swing traders who absorbed that risk were rewarded richly for holding on, taking advantage of moves that took more than a few hours, a few weeks, or even a few months to be fully realized.
For many traders, one or two good trades a month can make their month. In these cases, one or two trades made their entire year. Patience and the ability to remain calm even when volatility increased were paramount to making these types of trades pay off big.
Below are five market ideas that made traders rich in 2010, even if they just bought and held.
1. "Markets Outside the Stock Market Deserve Attention"
The typical at-home trader uniform of jeans and a t-shirt also represents one of the best trades of 2010: Cotton. Up over 100% this year alone, the iPath Dow Jones-UBS Cotton Total Return Sub-Index (BAL) was one way to trade the incredible rise in this commodity.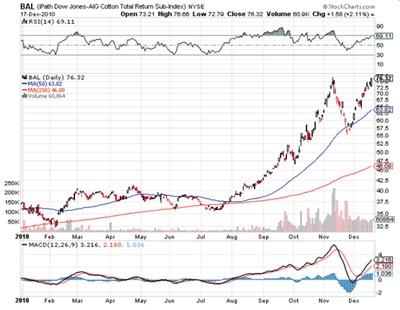 Click to Enlarge
Whether driven by expectations of strong exports to countries such as China, India, and Pakistan, or technical bounces off the 50-day moving average on a weekly chart, cotton has been a great trade.
While staging a big retreat in November, it has regained everything it gave back at that time. Traders who were spooked out were still handsomely rewarded if they bought back in February. Traders who stuck with it have been rewarded with a doubling of their position this year.
Is there still room to go? That's the question traders are asking themselves as they wait for 2011 planting intentions from farmers.
NEXT: Traders Cash in on Cloud Computing
|pagebreak|
2. "Cloud Computing Is Changing the Way Companies Buy Technology"
Salesforce.com (CRM) has benefitted enormously from how companies are buying technology "in the cloud." Up a stunning 85% this year, (and over 100% since the February low) this software-as-a-service company has proven that Internet stocks can make a trader wealthy again—this time without the bubble-like valuations of 1999.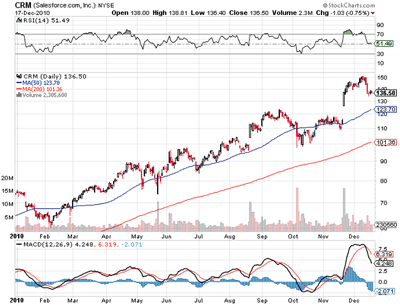 Click to Enlarge
Traders who continually heard the word "cloud computing" earlier this year and correctly guessed it would be the next "hot thing" in the markets have been richly rewarded with a steady upward price trajectory. Those who capitalized on this idea in 2009 have been even happier.
Yet, Salesforce.com's great 2010 performance has occurred during tough economic times when businesses were still operating on tight or even shrinking budgets. Consider the possibility of a recovering economy where enterprise-level buyers begin spending again on technology. Salesforce.com is in an obvious place of strength and could easily continue this trend.
NEXT: The Metal That Outshined Gold in 2010
|pagebreak|
3. "There's More to Metal Trading Than Gold"
All metals have done well this year, and gold tends to be the most discussed subject at commodity trader holiday parties. Yet gold's oft-overlooked cousin, silver, has had a year for the history books.
The flagship silver ETF, iShares Silver Trust (SLV) is up over 70% in 2010.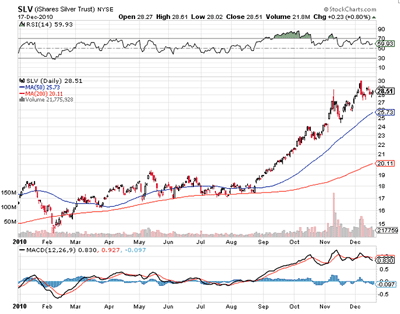 Click to Enlarge
The leveraged ETF ProShares Ultra Silver (AGQ), which seeks to provide daily investment results that correspond to twice (200%) the daily performance of silver, has been an even better trade, rising over 150% this year alone.

Click to Enlarge
No longer considered "gold's crazy cousin," silver's industrial uses are increasing and will likely continue to do so in 2011 if a global economic recovery ensues.
Analysts also believe the metals will continue to benefit from uncertainty and fear that the recovery won't happen quickly and that all the quantitative easing in the world won't be enough to push-start the USA's growth.
NEXT: Apple Continues to Rule the Tech World
|pagebreak|
4. "The Apple Store at the Mall Is Always Crowded"
Pocketbook still smarting from all those electronics purchases under the tree? Chances are many of those gifts you purchased this year had an "i" in the name. iPads, iPods and iPhones from Apple, Inc. (AAPL) seem to always be on the "most-wanted" list for children and adults alike, and 2010 was no different.
All those gifts were paid for in advance though for traders who purchased Apple stock early in 2010 (preferably during the February lows).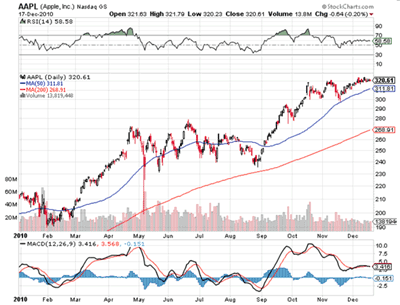 Click to Enlarge
CEO Steve Jobs and team continue to release products we never knew we wanted until Apple makes them. With rumors of Verizon (VZ) having a version of the iPhone in early 2011 still in full force, expect Apple to continue it's market-leading rise next year.
NEXT: Big Winners (and Losers) from the Commodities Boom
|pagebreak|
5. "Higher Commodity Prices Are Great for Investors, Bad for Food Producers"
The biggest loser of the Standard & Poors 500, Dean Foods (DF) is down 55% for the year. Higher prices for cattle feed and other commodities required to feed cattle hit dairy producers' bottom line, and Dean Foods was hit hard.
Traders who took a "short" position (borrowing shares to sell on the market and buying them back at a lower price) early in 2010 have ridden DF down to a multi-year low.

Click to Enlarge
Although prospects for Dean Foods are rosier in 2011, it's been a rough ride for any trader who bought shares from those who were shorting this year.
Many newer traders are still hesitant to "short" stocks they feel are headed lower, mainly because there is something that feels a bit unnatural about profiting from a stock going down. Yet being able to make money when stocks go in either direction is a key attribute of wealthy traders.
Those are just five ideas that made traders wealthy in 2010. Research, chart reading, and a little bit of luck are all helpful in spotting opportunities early in the year.
What will we be talking about a year from now as the best trades of 2011? Let us know your thoughts in the comments below.
By Tim Bourquin, traders content director, MoneyShow.com