How a Short-Term Trader Uses Long-Term Charts
01/19/2011 1:04 am EST
Focus: STRATEGIES
Longer-term charts can be very helpful—even for short-term traders—in finding areas of support and resistance. For example, if you find that a stock or index is having trouble reaching through to a higher level, there may be long-term resistance keeping it in place.
Here is an interesting example. The US equity markets now face a critical test of weekly chart price levels that stretch back to mid-2008; or a surprising level on the Nasdaq weekly index.
You might be very surprised at the level the Nasdaq has reached if you focus most of your attention on the Dow or S&P 500.
Let's take a look first at the similar index levels (structurally) on the Dow Jones and S&P 500 indexes, and then prepare to be surprised by the level the Nasdaq is challenging right now.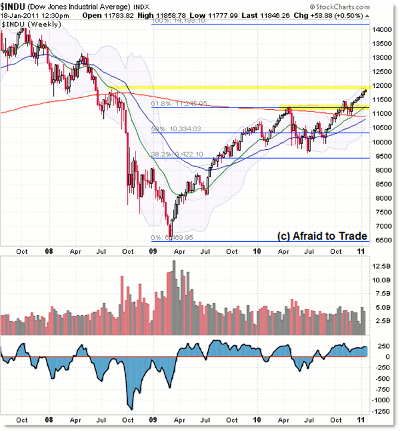 Click to Enlarge
Just focusing on a quick take of the weekly chart structure, we see price nearing the 12,000 overhead target level.
The 12,000 level reflects a prior price swing high from the falling market made in early August 2008— just before the crash.
Look closely to see 12,000 was also a pivot swing low (twice) at the start of 2008.
It makes it the critical level to watch now.
There's a good lesson to learn in weekly price charting and observing key levels here. Traders were watching the 61.8% Fibonacci level at 11,250, which served as dual resistance in 2010.
An official price breakout through a key level often sets up a trade to play for the next higher level, which in this case is right here at 12,000. Markets don't usually go straight up from level to level, but in this case, it did.
That's what many technicians mean when they say to watch price—a breakout from one price level often targets a move up (or down) to the next level as seen here.
A breakout above 12,000 soon—if the market does not pause/retrace here—then pushes the next target near 13,000 (May 2008's swing high).
The picture is almost structurally identical in the S&P 500 Index: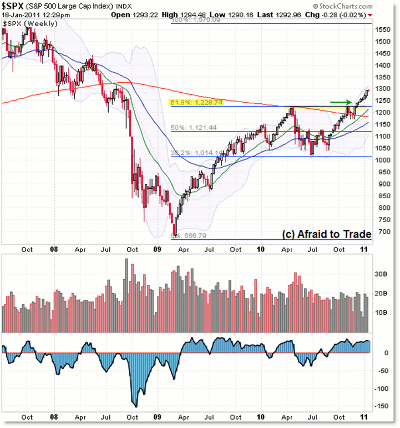 Click to Enlarge
The 61.8% Fibonacci reference level (came into play twice as resistance in 2010) is 1,228/1,230. Price officially broke that in early December, setting up the next upside price target to 1,300—the similar swing high from August 2008.
The high so far is roughly five points shy of that key level, which locks it in as the critical (yet simple) price index level to watch: 1,300.
This is nearly identical to 12,000 in the Dow Jones…with similar implications.
If the market does not pause/resist here (start heading lower soon), then the next intermediate-term target rises to the 1,450 level.
While the Dow Jones and S&P 500 are structurally similar, the technology-favored Nasdaq is doing something quite different…and very significant.

Click to Enlarge
If you look closely at the chart, the Nasdaq already faced key tests of resistance at the August and May 2008 price levels at the 2,600 level.
The index similarly broke that level in December, corresponding with a breakout in the S&P 500 and Dow, but the Nasdaq now faces a different—perhaps more significant—resistance level.
Would you be surprised to learn that the Nasdaq index is challenging its 2007 price high? As in the high the market made ahead of all of the bear market of 2008?
If you don't follow the Nasdaq index, you are probably surprised by this.
A key breakout above the 2,800 level (the actual index high is 2,861) leads the index on to levels not seen since the end of 2000.
While both the S&P 500 and Dow Jones indexes would be making new lifetime highs if they surpassed their respective October 2007 index highs, the Nasdaq (due to the tech bubble and crash) would be returning to index highs seen previously at the conclusion of 2000.
That's still about 40% down from its March 2000 all-time high just above 5,000.
Nevertheless, with the Nasdaq challenging the October 2007 high, the technology index has almost recovered all of its losses from the recent recession and bear market. That's a huge accomplishment.
So in summary, watch the following key overhead reference levels:
Dow Jones: 12,000
S&P 500: 1,300
NASDAQ: 2,800
It goes without saying that all three markets will be expected either to resist here at their key levels together, or break through them all together.
What happens thus changes the intermediate game in terms of positioning and strategies.
Should prove to be very interesting!
By Corey Rosenbloom, trader and blogger, AfraidToTrade.com