Hurry Up and Be a Patient Trader
02/17/2011 3:00 am EST
Focus: STRATEGIES
Step back to a larger time frame; the set-ups may take longer to develop, but the more lucrative rewards are fair compensation.
The major indexes have been breaking away from key Fibonacci levels and 100% returns from the bottom. It is not surprising that there has been a bit of noise, played out as sideways consolidation, as this process has occurred. But as the dust settles and markets continue higher, it will be important to act as a patient trader. This does not mean sitting on your hands if a stock hits your target or even widening your stops.
The Patient Trader
The concept of a patient trader is quite simple: Instead of focusing on the minute details of daily charts, take a step back in your time frame and look at weekly charts for a while, discovering set-ups that may take longer to play out, but can be more lucrative as well. Sure, there will continue to be short-term breakouts, but longer-term dynamics will gain more importance. Let me walk through an example below using American Express (AXP).
Daily Chart Analysis

Click to Enlarge
AXP is trying to break out of a triple top formation. It has approached the top from a higher low each time. If it gets through the top at $46.67 this time, it could run to $53, assuming symmetry with the move from $37 to $47 repeating now, this time from the low of $43.
That is not a bad find. But pull back and look at a longer chart on a weekly time frame and it gets even juicer.
Weekly Chart Analysis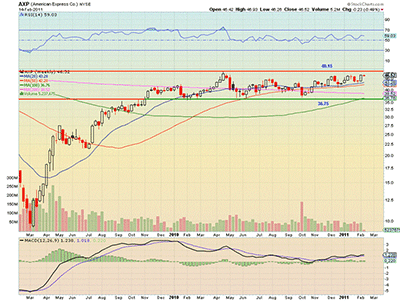 Click to Enlarge
Now you can see that AXP has been in a 16-month channel and a breakout higher would set a target of at least $61.50. Without looking at a more patient time frame, you may have taken off your trade at $53 if it consolidated there for a day, and potentially missed more upside potential.
Even if this trade is missed or doesn't come through by the time you read this, it's an excellent example of why even short-term traders should be watching long-term charts every day.
If this market continues to move higher through these key areas, the next key area will be that much further away. The trend will start to play a bigger role in all names in the shorter time frames.
I believe that is what people are getting at when they say the "easy money" has been made. Those who can step back and see bigger-picture opportunities will be winners in this new market. Start practicing now to gain a head start.
By Greg Harmon of DragonflyCap.com