Profit from Other Traders' Stops
03/01/2011 1:00 am EST
Focus: STOCKS
By locating clusters of stop loss orders, traders can be ready when a stock emerges from these areas, thus providing great trading opportunities.
You're probably thinking this is another article on why it's so important to set your stop loss orders on each trade, and while setting your stops is very important, the focus of this article is a little different. Here, I will be profiling a stock that should have a group of stop orders clustered at a certain level, and these stops could help trigger a short squeeze in the right situation.
Many traders tend to think of stops only as it applies to them, but it is a very valuable skill to be able to identify areas that should have clusters of buy or sell stop orders. Because most stop orders are entered as market orders, they will often trigger an avalanche of other stop orders. Stocks have an uncanny ability to find these areas for a variety of reasons, and traders who are aware of these levels can often benefit from these runs on stops. Often, these moves are short lived, but sometimes, when combined with another catalyst, the short squeeze can last for days or even weeks.
One stock that should have a price level with a cluster of stop loss orders is InterOil Corporation (IOC). Many oil stocks have been going nuts lately, but somehow IOC keeps running into sellers. While this would usually be a warning sign (and still could be for IOC), one thing strikes me as being curious.
For a stock that keeps finding sellers, IOC has not really pulled back too far from its recent highs. In fact, it's really not too far from all-time highs over $84. While I know a little about the fundamental story behind why some funds are shorting IOC, I also know that a heavily shorted stock this close to all-time highs can be dangerous for bears, especially when a catalyst exists to push these companies higher.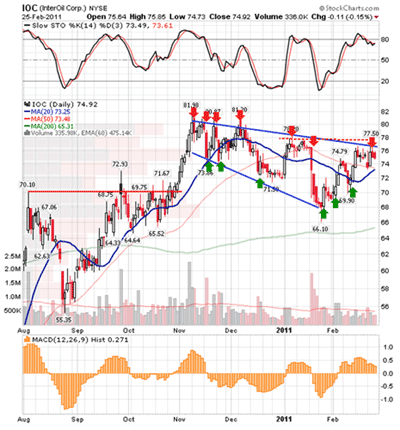 Click to Enlarge
In looking at the chart above, notice how IOC keeps reversing on rally attempts near $80. While this is certainly a negative, IOC also continues to find buyers, especially in the low $70′s. While a break to either side of these important levels will likely produce a good trading opportunity, a break higher would have more potential. The first level to watch would be last week's highs near $77.50. A move above this level would take IOC above the trend line that has been marking its most recent highs and could provide the spark for a more prolonged squeeze. Above $82 would likely lead to new all-time highs and possibly a capitulation move by shorts.
With that being said, traders should never get carried away while gambling on hypothetical scenarios. While the technical case for a short squeeze in IOC has merit, it is important to wait to see if traders can take it above some key levels. The fundamental case for such a high short interest has merit, and many highly shorted stocks deserve to be so.
However, IOC is a stock that could see a short squeeze on a break above resistance and should be on your radar.
By Joey Fundora, trader and blogger, DowntownTrader.com