6 Signs a Stock Is Nearing a Top
04/08/2011 8:00 am EST
Focus: STOCKS
With many stocks rallying to new all-time highs, here are six signals that a stock's impressive rally may be ending or about to reverse (and one high flier that's showing these signs now).
How can you tell when an individual stock is exhausted from a long-term uptrend?
The following six characteristics are typically found in a stock that is forming a climax top:
A quick run-up or accelerating gains over a short period of time after a long-term uptrend. The gains will be much larger during this short-term run, proportionally, than in the entire uptrend.


A large gap up after several months of a steady uptrend. Investor's Business Daily (IBD) calls this an "exhaustion gap."


The largest daily and/or weekly volume of the entire uptrend.


A large single-day point gain, the largest of the entire uptrend.


An intraday move to new highs on above-average volume, but a close that results in a loss.


A stock that is trading 100% above its 200-day moving average. IBD states that a stock trading 70% above its 200-day moving average is showing exhaustion.
Take a look at the daily and weekly charts for Travelzoo (TZOO) for more: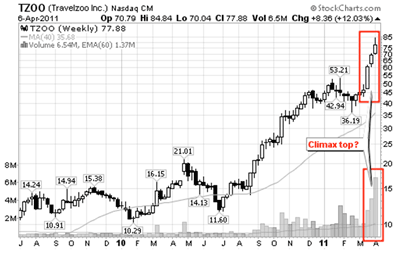 Click to Enlarge
As you can see, TZOO has confirmed the following red flags for a climax top formation:
Ten of the past 13 days have been up days


A 68% gain over the past 13 trading days and a 100% move over the past month. Stock is up 900%+ since March 2009


The largest daily and weekly volume of the entire run


A new high intraday with a close that resulted in a loss (Day of writing: New high with a reversal to close down 3.69% on volume 485% larger than average)


The stock is trading more than 130% above its 200-day moving average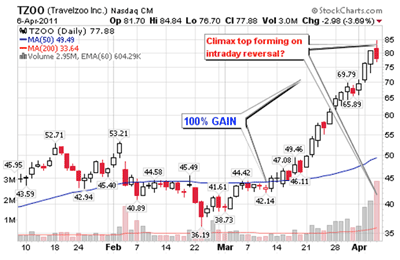 Click to Enlarge
With all that said, what should you do if you are long a stock with this type of behavior? I suggest locking in gains and selling at least two-thirds (or minimum a half) of your total position. If you still want to take advantage of further gains (knowing you may be a bit early in calling a top), you can still hold on to a final one-third with a tight stop loss.
In addition to locking in individual gains (in examples like TZOO), I highly suggest that you start to watch all market leaders and the general market indices for red flags. You can start to see signs of an overall market top when multiple individual stock leaders start to form climax tops after huge gains over the past six, 12, or 18+ months.
By Chris Perruna, trader and blogger, ChrisPerruna.com