An Energy Stock for Long-Term Traders
05/26/2011 8:00 am EST
Focus: STOCKS
A political victory opens the door for US natural gas producers to export overseas where demand—and price—is very high. Cheniere Energy (LNG) appears to be the first in line to win big.
For traders with a long-term bent in their portfolio, the recent action in Cheniere Energy (LNG) stretches the buy case out to 2015.
Cheniere Energy announced a political victory last Friday, when the Department of Energy (DoE) approved a plan for Cheniere to export liquefied natural gas (LNG) from the Sabine Pass terminal in Louisiana to any country with which trade is possible.
Historically, there has been political resistance to sending natural gas overseas, though there had been political acceptance of exporting to markets with which the US has a free trade agreement.
The Department of Energy decision was not a big surprise to Wall Street. A few months ago, Wall Street analysts were talking about the Cheniere permit as a likely event, but one not likely to be a reality until 2015, which is how events are now playing out, with the project first needing to be financed and built over several years with a price tag of $6.4 billion.
It wasn't a big surprise to natural gas experts either, who indicate that job creation is a bigger driver of political decisions right now than legacy arguments against sending US natural resources overseas.
See related: Is Natural Gas Bottoming?
"I had been expecting it, just from talking to people in and around and reading the DoE body language. There just wasn't a whole lot of the historic opposition," said Zach Allen of PanEurasian Enterprises, an expert in the natural gas trading and shipping market.
Bechtel is Cheniere's current partner on planned construction of the export terminal, with an estimated cost of $400 million per metric ton, or the $6.4 billion figure represented by a total planned capacity of 16 metric tons.
Cheniere Energy shares are up 37% since last Friday. The rapid rise in Cheniere shares was actually 44% before a 7% decline on Tuesday, a decline that was notable on a day when the energy sector rallied.
Part of the rapid rise in Cheniere Energy shares was a political relief rally, even if natural gas market experts expected the approval to come through. Part of the pullback in shares on Tuesday may be a reflection of how much is left to accomplish in making a financial model for the export of LNG work.
Here's a daily chart: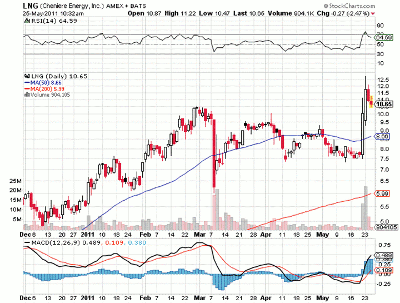 Click to Enlarge
NEXT: See What's Ahead for Cheniere and Other Industry Leaders
|pagebreak|
"There was a relief trade here," said Dan McSpirit, analyst at BMO Capital Markets. The Cheniere relief trade buoyed independent US natural gas producers, as well, including Chesapeake Energy (CHK), Devon Energy (DVN), and EOG Resources (EOG) last Friday.
Analysts say it wasn't just the Cheniere political victory, and the stubbornly low prices for natural gas, but the fact that several other players in the natural gas market have similar plans for export terminals, including Dominion Resources (D).
All the Marcellus shale plays rallied predicated on the idea that Cove Point, Maryland, for example, could become an LNG export reality, while the Cheniere news was tied more closely to the Haynesville share opportunity in Louisiana and East Texas.
"It's the growing perception that the export market is an opportunity for the US market," said Allen of PanEurasian Enterprises.
Yet the natural gas expert Allen was cautious about the opportunity here. There was a rally in all of the US natural gas shares because there is so much natural gas coming online and nowhere for it to go, keeping prices depressed.
Additionally, there was still a political hangover from the days of strict hydrocarbon laws when companies couldn't export anything if it wasn't in the national interest. "The political issue has diminished, but not entirely gone away. The first few into this market may get export licenses, but if we see a whole rash of permit requests, there could be renewed political opposition."
Cheniere Energy, for example, handles roughly two billion cubic feet (BCFE) to 2.5 billion cubic feet of natural gas equivalents a day, and the permit allows the company to export up to 803 BCFE annually.
Freeport LNG is in the same range. Allen said that if the export terminal concept has legs, the legs are probably limited to between 10 BCFE and 20 BCFE a day before political opposition would become more pronounced again. "This industry goes in boom and bust cycles, and there is a tremendous ability to overbuild. There was hundreds of millions spent on permitting LNG import terminals that were never built," Allen noted.
Cheniere was one of the companies that built a natural gas import facility before the US drilling boom glutted the market. The company lost money for 13 consecutive years, according to Bloomberg.
The natural gas stock rally regained some steam on Tuesday with the bullish Goldman Sachs call on commodities, as the famed bank reversed course on hard assets, instructing investors that the risk/reward balance has again tilted in favor of going long a commodities basket.
Yet for Cheniere Energy, the Goldman commodities call couldn't keep shares up. The dust won't settle on the LNG export terminal opportunity until 2015, and the rhetorical question remains, do Cheniere Energy shares give back all the gains predicated on 2015, by 2015?
To understand the Cheniere Energy bullish story, analysts say that investors need to focus in on a few key factors that don't relate to the outlook for the US natural gas producers.
NEXT: The Global Factors Driving Natural Gas Growth
|pagebreak|
First, it's a long time to market for Cheniere Energy, and the global natural gas market might look considerably different by 2015.
Australia, for example, is a natural gas market which is adding a lot of natural gas supply. The LNG market, more generally, is driven by demand in Europe and Asian markets.
There is a big spread between natural gas pricing in the US and in Asia currently. US natural gas pricing has recently been as low as $4, while pricing in Asia has been above $12. "Can you really export four years out and expect to see the same price spread in the market?" asks PanEurasian Enterprises Allen. "My guess is that supply from various Asian-based suppliers will continue to increase."
Australian mega-LNG projects include Woodside Petroleum's Pluto project and Chevron's (CVX) Wheatstone LNG, and these projects, as well as projects in Papua, New Guinea, will be competing for the export markets.
Japanese buyers of natural gas were paying above $14 for LNG in March, according to Bloomberg data, versus a US price of $4.51.
By the time the Sabine terminal project comes online, though, the situation in Japan will be different from today's environment.
In the wake of the Japanese tsunami and nuclear disaster, Japan has become an even larger market for importing liquefied natural gas than it already was, and politicians in Louisiana seized the opportunity to press for the Cheniere Energy export permit.
Asian-based LNG suppliers will have a logistical benefit from the Asian market demand for LNG supply. However, a planned Panama Canal expansion should help the US export market and Eastern US-based LNG supply to access the Pacific markets.
Where experts still disagree is over future pricing competition between LNG export hubs.
Citigroup upped its rating on Cheniere this week to a "buy," saying that it believes Cheniere will be able to supply LNG at a competitive price versus Australian projects.
The natural gas trading expert Allen said the basic cost structure could ultimately be higher in the US than in places like western Australia. Allen said the cost of producing natural gas in Australia can be as much as $1 less than the same costs in the US.
Natural gas market experts also note that the Cheniere Energy opportunity is really as a service provider to exploration and production (E&P) companies that want to export LNG, as Cheniere Energy hasn't pursued the ambition of being a major natural gas trader globally.
This model could lead to relationships with integrated oil and gas companies and natural gas trading firms, who agree to pay the terminal usage fees, covering Cheniere's costs and providing a revenue stream, similar in some respects to an energy master limited partnership.
This model isn't a "bonanza" model, but an assured stream of payment. "They can make a decent living running those terminals," said Allen, who added that being first to receive the permit was an advantage.
On the other hand, an outright acquisition—which could be the best-case scenario for a company like Cheniere Energy—isn't as likely.
Many LNG import projects were started by initial developers with the dream that ultimately, a larger oil and gas company comes along and acquires it at a premium, but that didn't pan out, and it might not pan out with LNG export facilities, either.
Larger oil and gas companies don't like to tie up their capital in non-mainstream businesses. The oil and gas majors have bought up the shale plays in the US because they either have or need the technological and engineering expertise for these plays, and were arguably late to the game, but in a capital-intensive business like E&P, owning an export terminal doesn't seem a likely spending item.
"As long as they can rent from Cheniere, they won't buy it," said the natural gas market expert Allen of PanEurasian Enterprises. Cheniere has the management horsepower and technical expertise to run the facility, and the majors will be happy to pay for its service, Allen said, which leads to the most important question for Cheniere Energy: Finding the right combination of portfolio players among the oil and gas majors to come in and bring capacity onto the system as partners in exporting LNG.
Cheniere has already entered into eight non-binding memorandums of understanding with potential customers.
Cheniere Energy said last month it may need to divest assets, restructure debt, and as of yet, it doesn't have a finance project plan for Sabine Pass in place.
Cheniere's cash stood at $24.5 million at the end of the first quarter. Total debt stood at roughly $3 billion and assets at $2.5 billion at the end of the first quarter. The company has lost money for the past three quarters.
By Eric Rosenbaum
This article first appeared on Minyanville.com