Why Gold Will Cool as Summer Heats Up
06/06/2011 10:19 am EST
Focus: STRATEGIES
Trader Chris Vermeulen writes that while gold may trade in a choppy fashion in the short term, factors are at play that could bring about a sizable downside move this summer.
Last Wednesday (June 1) was a crazy session, as the stock market fell over 2% on heavy volume. This type of price action means fear has taken control of the masses and they are unloading (selling their stocks) in anticipation of much lower prices.
Trading off extreme levels of fear can be very rewarding if done right. That's because fear is the most powerful reaction we humans have, and it's somewhat predictable. Fear can make people do crazy and/or stupid things, and it's these extreme reactions that lead to great trading opportunities. Buying into fear and selling into greed is what I focus on.
Gold and Silver Showing Greed and Fear
For example, if we take a look at the four-hour chart of gold and silver futures, you will see how investments like silver, which have a large amount of speculation, move opposite of other, related investments (like gold).
The first gold chart shows how last week's fear had investors moving into this shiny safe haven. Silver, on the other hand, has been the investment of choice for every Tom, Dick, and Harry trying to play the popular headline investment.
So on a day like Wednesday, when prices start to slide in the stock market, these speculative holders of silver get scared and dump (sell) their positions in stocks and silver. The problem with silver is that the market is still small and it doesn't take many people hitting the sell button to send the market 5% lower, which is exactly what took place on Wednesday. This is one sign that is telling me traders are getting nervous about a market selloff.
Take a look at the gold and silver four-hour chart below:

Click to Enlarge
Looking back in time and reviewing intermarket relationships with gold and silver, I feel more and more that investors are becoming bearish and moving their money into safe havens like gold and silver.
We recently saw a sharp pullback in both gold and silver. The price and volume action that took place was a clear sign of distribution selling, meaning big-money players taking money out of those investments. I see this pattern happen in stocks, indexes, and commodities all the time, and it generally warrants caution!
My trading buddy JW Jones, who also writes for MoneyShow.com, has some very exciting ways to profit from these choppy market conditions with limited risk. If you are into options, be sure to check it out.
Below is what I am thinking will take place in gold this summer.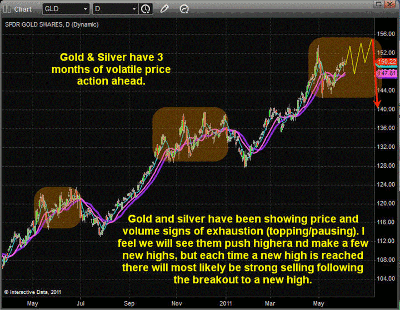 Click to Enlarge
Typically, we will see a few more new highs being reached, which are quickly followed by strong selling. What happens is that the big-money players allow the price to make a new high, and when that hits the news outlets like CNBC, BNN, etc., it produces new buyers and a surge of volume for the big money to sell into and exit their positions at the top. It also helps cover up their large-volume selling.
My overall view is that while gold may gyrate a bit over the next few weeks, we'll see a decent downside move in gold this summer.
By Chris Vermeulen of The Gold and Oil Guy