It's Double Jeopardy at a Key S&P Level
01/12/2012 8:00 am EST
Focus: STOCKS
Corey Rosenbloom profiles the two significant chart patterns that are unfolding at the critical 1300 level in the S&P 500, urging traders to be prepared to trade either outcome.
With traders focused on the S&P 500 at the round-number reference level of 1,300, let's take a quick look at two competing classic price patterns that have formed into this critical level.
Is the S&P 500 completing a short-term double-top reversal pattern or an inverse head-and- shoulders continuation pattern?
Let's look at these developments and plot classic targets and expectations.
First, the bigger daily picture:

Click to Enlarge
For distinction, I labeled the double top ("TT") in black and the inverse head-and-shoulders pattern in blue text.
It's unusual to have two classic, textbook patterns competing for trader attention, and it's even more interesting to have it happening at the critical "battle zone" of 1,300, which many traders agree to be a "make-or-break" level for the market structure.
See related: Read Market Structure Like the Pros Do
In other words, sellers draw the line at 1,300 and have placed stop losses above 1,300, while buyers—if not already positioned—will likely enter new positions or else add to existing positions on a firm breakout above 1,300.
Starting with the double-top reversal pattern, we see two peaks into the 1,300 (technically 1,295) area and we note a clear negative divergence in both momentum and volume when compared to the October 28 peak (the origin of both these patterns).
To expect a double-top pattern resolution, we would need to see continued failure at 1,300, meaning an immediate move lower that targets 1,260, 1,240, and then moves towards the 1,160 level, if not lower. That's the bearish pathway.
NEXT: The S&P's Inverse Head-and-Shoulders Formation
|pagebreak|
The inverse head-and-shoulders bullish continuation pattern triggers with a firm breakthrough above the neckline at 1,295 (1,300 for easy math), which then projects a classic target to 1,430 (which is 130 plus 1,300, or the distance from the neckline to the head then added to the neckline).
For reference, 1,430 gets us close to a longer-term upside target from the May 2008 high (yes, that far back).
A pure price pattern clarifies both of these competing patterns: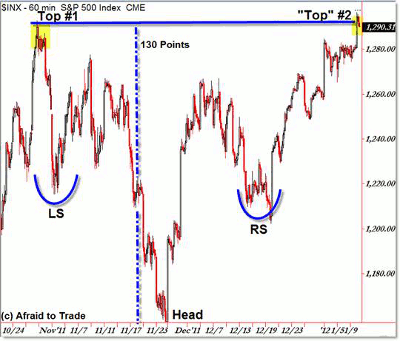 Click to Enlarge
I'm keeping this post as simple as possible. Feel free to add in your own analysis or interpretation using additional indicators and methods.
Sometimes it's good to pull back the perspective to a "price purism" point of view, which is what I'm attempting to do here with a neutral bias, aware of either potential outcome.
Take a moment to look over these patterns, review classic targeting/expectations, and be ready to trade either outcome should we indeed see price confirm one of these patterns.
No matter how you define it, what happens at 1,300 will be very important to assessing future expectations.
By Corey Rosenbloom, CMT, trader and blogger, AfraidToTrade.com.
Corey will be speaking about chart patterns like these at the upcoming New York Traders Expo.