Why Technical Traders Can't Ignore News
01/31/2012 10:05 am EST
Focus: TRADING
Even the clearest of chart patterns and technical signals can be invalidated by news and fundamentals, writes Toby Connor of the Gold Scents blog, using the recent Fed meeting as proof.
I figured out early in my career that arguing with the market more often than not ends up costing money. If you are one of those people who are unable to change your mind, this business will almost certainly chew you up and spit you out. Never has that been more true than today.
Folks, we are in the middle of an ongoing currency war. That is creating investing conditions unlike anything most of us have ever seen before. There's a reason why very few money managers have been able to make any profits over the last year and most of them have lost money. That reason is an ever-changing investing environment.
See related: Markets Change…So Should Traders
As most of you probably already know, my investing strategy is based around cycles, sentiment, a long-term bull market in precious metals, and a dash of technical analysis thrown in to help spot entry and exit points. Those tools give me a rough outline of what to expect going forward. I then placed my trades based on the best odds for success.
However, none of that relieves me of the responsibility to change my mind if the market tells me my expectations are wrong. It is precisely the ability to reverse direction 180° that enabled us to generate a 25%+ gain in the model portfolio during the last six months.
This in a market that has confounded most professional money managers, and in an un-leveraged portfolio, with never more than 75% of capital invested at any one time. I dare say on a risk-adjusted basis, the SMT model portfolio has outperformed probably 99% of the money managers in the world.
As an example, let's use my recent expectation for 2012 to be one of the worst years in history. First off, let me explain how I came to that assumption.
To begin with, the dollar's three-year cycle low was due to bottom in the spring of 2011. It actually did bottom in May 2011.
The stock market's four-year cycle low is due to bottom in the fall of 2012. Since most bear markets tend to last about 1 1/2-2 1/2 years, it was reasonable to expect that the next bear market would begin when the dollar started to rally out of its three-year cycle low.
Low and behold, what happened in May when the dollar cycle bottomed? That's right, the stock market started to collapse as deflationary forces began to push the dollar higher and asset prices down. Everything was unfolding exactly as our cycle tool suggested it would.

Click to Enlarge
However, in late November, the markets started to deviate from our expectations. As the dollar continued to rally, stocks began to decouple from the strong dollar. At this point, one could either stubbornly hold on to their bearish outlook and lose money, or they could accept that the market was doing something different than what they expected, change their mind, and deal with reality as it is, instead of how they wished it to be.
The fact that the S&P wasn't doing what it should have been doing was the main reason I've been warning (pleading with, really) traders not to sell short. This market should have begun the move down into a daily cycle low two weeks ago. The fact that it refuses to move down into that overdue correction is sending a strong message that something else is going on.
See related: Stocks Need Some Bad News
The inability to change one's mind when the market proves you wrong is one of the toughest habits to break, but one that is absolutely necessary if you are going to make money in this business. For whatever evolutionary reason, human beings have a very hard time admitting when they are wrong, and an even harder time reversing their thinking 180° even after they know they're wrong. For the vast majority of traders it is less painful to lose money than it is to admit an error and reverse a trade.
In a previous post, I went over my expectation for gold to move down into its daily cycle low along with the stock market. This should have corresponded with the dollar rallying out of its cycle low. On Wednesday morning, everything was set up perfectly for this to unfold.
Gold had formed a swing high and was beginning the move down into its daily cycle low, stocks were in the process of reversing back down through the coil, and the dollar had bounced off of the 50-day moving average and was holding strongly above support at 80, clearly in the process of putting in a cycle bottom.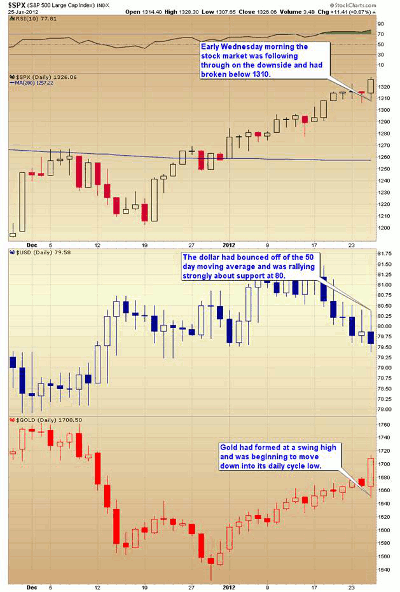 Click to Enlarge
However, as you can see from the chart, all of that changed on Wednesday afternoon with the Fed statement. The stock market reversed the early-morning weakness, closing strongly. Gold reversed dramatically, closing up over $40, and the dollar collapsed back down through 80, negating what would have almost certainly been a powerful rally out of that cycle bottom.
One could either ignore what happened and exacerbate losing trades, or they could recognize that something fundamentally changed that afternoon and quickly get on the right side of the market.
That is exactly what we did. When the dollar reversed and gold started to rally, we immediately bit the bullet on our long PowerShares DB US Dollar Index Bullish Fund (UUP) trade, took a small loss, and re-entered the Market Vectors Gold Miners ETF (GDX).
None of our tools (cycles, sentiment, or technicals) were predicting this, however, that still doesn't give us an excuse to ignore what happened and we quickly made the correct adjustment.
Bernanke didn't actually confirm QE3 Wednesday afternoon, but the market obviously perceived the Fed statement as a guarantee that QE3 is in the works. That has the potential to break the dollar's rally out of its three-year cycle low and derail the expected move by stocks down into a four-year cycle low later this year.
If Bernanke can break the dollar rally and get the dollar moving south again, there is no way we are going to experience a deflationary bear market this year. In that scenario, 2012 would be the beginning of an inflationary period, culminating in a dollar crisis at the next three-year cycle low, due in late 2014.
If this is what is about to unfold, then we need to alter our expectations from a deflationary bear market to an inflationary bull market. The four-year cycle low for stocks, instead of occurring in late 2012, would probably get stretched out to late 2014. And the recession we should experience this year will be pushed out to 2013/2014 once inflation rises high enough to poison the economy.
The big question now is if Bernanke can break the dollar rally? Confirmation will come once the dollar finds its daily cycle low, and if the rally out of that low fails to move to new highs and rolls over quickly, forming a new pattern of lower lows and lower highs.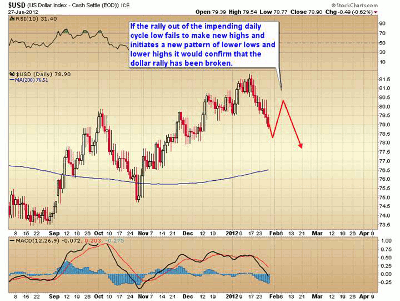 Click to Enlarge
If this scenario plays out, then we can jettison the deflationary bear market hypothesis and begin positioning for the inflationary scenario, which should culminate with a dollar crisis in late 2014. This scenario also has the potential to drive the bubble phase of the gold bull market.
A lot is riding on the dollar right now.
By Toby Connor of Gold Scents
By clicking submit, you agree to our privacy policy & terms of service.
---
Related Articles on TRADING