Bulls on Top in Latest Sentiment Survey
02/20/2012 10:42 am EST
Focus: TRADING
Tim Bourquin reveals the results of MoneyShow.com's latest trader sentiment survey, which shows a bullish bias for stocks, mixed feelings about the dollar, and growing diversification among different trading vehicles.
America's largest and oldest Traders Expo kicked off yesterday evening in New York City, and thousands of active traders have converged upon the Marriott Marquis hotel in Times Square to discuss the markets.
In over 50 workshops on topics ranging from reading charts to newly developed indicators, traders will be learning how to improve their trading profits and win rates. In the exhibit hall, the industry's biggest companies are showing off the latest software and trading tools. It's an exciting time to be a trader, and the buzz in the hotel is louder than ever!
Over the last few years, MoneyShow.com and The Traders Expo has developed a tradition of "taking the pulse" of traders around the world to find out how they're feeling about the markets and their prospects for making money trading for the remainder of the year.
Through a series of ten simple and direct questions, we gain a window into the overall sentiment of short-term traders. Nearly 1,000 traders completed this latest survey. Let's take a look at the results.
Between now and December 31, 2012, I think the Standard & Poor's 500 average will: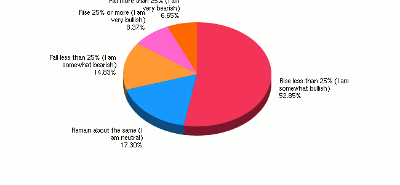 Click to Enlarge
As you can see from the pie chart above, solidly half of all traders surveyed believe the S&P 500 will rise between now and the end of the year. We've seen quite a rally recently, which always weighs on the final results of these types of surveys. Adding in the "very bullish" crowd adds another 8% to the half that are fairly bullish. The 17% of respondents who were neutral and believe the market will finish about where it is now is larger than many previous surveys done in 2011.
2. For the remainder of 2012, in terms of number of trades, I expect that I will: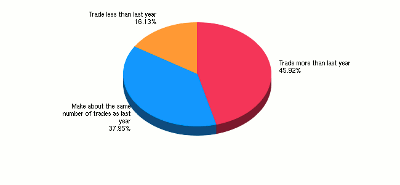 Click to Enlarge
Nearly half of all traders surveyed believe that they will be making more trades this year than last. If volatility increases, that number will probably grow, as we all know that periods of increased volatility offer many trading opportunities. This question may also reflect the bullish sentiment of traders, which typically leads to increased trading activity.
3. From now until December 31, 2012, I estimate the percentage of my trades that will be short sales will be: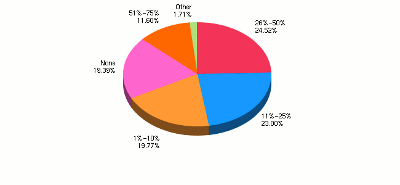 Click to Enlarge
Shorting the market continues to gain popularity, however, nearly 20% of traders stated that none of their trades would be short sales. This result may also be reflective of the bullish sentiment shared by over half the respondents. Almost one-quarter of the traders surveyed said between 25% and 50% of their trades would be short—a number that has grown steadily over the last two years.
4. For the remainder of 2012, I expect that my most profitable trades will be in: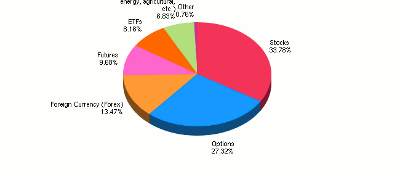 Click to Enlarge
Stocks continue to be the most popular trading vehicles, but options made a big leap in this survey, with nearly 28% of respondents stating their most profitable trades would be in those securities. Forex and ETFs also remain popular, but still pale in comparison to stocks and options. Nonetheless, over the years, we've seen the pieces of this pie continue to even out as retail traders try their hand at trading markets that just ten years ago were only touched by institutional traders working for investment banks.
5. For the remainder of 2012, I expect the Federal Reserve will:

Click to Enlarge
This question was a no-brainer to predict this time around, since the Federal Reserve itself has indicated that any change to the most widely watched interest rate in the world is unlikely before 2014. Still, 10% of respondents remain unconvinced. That number may grow if signs of inflation begin to present themselves later this year.
6. For 2012, I expect my trading profits to be: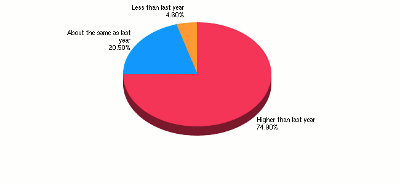 Click to Enlarge
Traders tend to be an optimistic bunch by nature, especially when it comes to their ability to draw profits from the markets. Traders are more confident than ever that they will make money this year. In fact, nearly three-quarters of the traders surveyed said they would make more money trading this year than last. The first 45 days of the year must have been successful so far. It will be interesting to see how this number changes when traders are surveyed again mid-year.
7. For the remainder of 2012, I expect the US dollar, in relation to other currencies, to: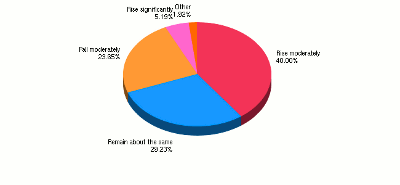 Click to Enlarge
Forty percent of traders surveyed believe the US dollar is headed for gains in value against other world currencies in 2012. A smaller group believes it will remain about the same, and an even smaller group believes it will fall moderately. This pie chart indicates that while the majority is bullish on the greenback, the sentiment isn't overwhelming. It doesn't seem sentiment alone will be a solid predictor; it could go either way from here.
8. From now until December 31, 2012, I think the price of gold will: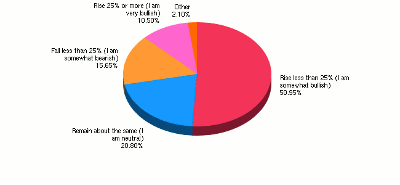 Click to Enlarge
Gold continues to hold the spotlight in the commodity markets, and just over 50% of traders surveyed believe that it will rise in value—but less than 25% from its current level. About 11% stated gold would rise over 25%. With 60% of traders believing that gold is headed higher, is that "bubble" sentiment? I'm not convinced. However, adding the 20% of traders who believe it will remain the same, that's over 80% of traders who at least believe gold will not go down in 2012. Those kinds of numbers will raise eyebrows for sure.
9. From now until December 31, 2012, I think the price of crude oil will: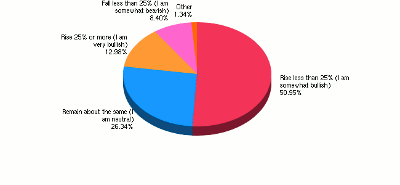 Click to Enlarge
This survey was conducted during a week when Iran and its threats to close the Strait of Hormuz were in the news on a daily basis. That might explain the nearly 64% of respondents who believe the price of oil is headed higher in 2012. Only 8% were bearish on the price of oil. Crude oil futures and ETFs based on oil are increasing in popularity. If this bullish outlook continues, it stands to reason that volume in those markets will also rise.
10. For the remainder of 2012, I expect the overall economy to: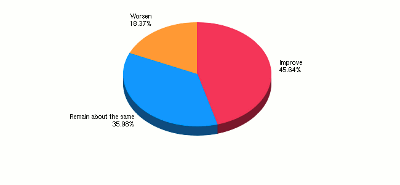 Click to Enlarge
Finally, we finish our survey with a broad question that is less directly related to short-term trading, but interesting nonetheless, to see where traders feel the US economy is headed in this election year. Over 45% are bullish on the economy, while only 18% feel we're in for harder economic times. Traders know that a Presidential election year is never a good time to bet against the broad markets or the overall economy.
We'll see how these numbers change in June and November, when we will ask traders, once again, how they're feeling about the markets and their prospects for profiting from them.
By Tim Bourquin, co-founder, The Traders Expo, and trading content director, MoneyShow.com
By clicking submit, you agree to our privacy policy & terms of service.
---
Related Articles on TRADING