The Best Market Timing Indicator Ever?
03/07/2012 8:00 am EST
Focus: STOCKS
Trader and systems developer Don Pendergast profiles a MetaStock system that is supremely easy to use and has done very well in alerting traders about trend changes in the broad markets.
By now, even the average buy-and-hold or dollar-cost-averaging investor realizes that the US stock market is in the midst of a roaring uptrend, one that is now more than two months old and still is exhibiting massive amounts of staying power.
The question now is whether this realization will incite even more buying enthusiasm, or if it will be an early sell signal for those who have already profited greatly during this mega market move.
Here's an examination of the weekly chart of the S&P 500 Index (SPX) (Figure 1) using of the most useful expert advisors found in MetaStock 11 as we seek to discern the probabilities of there being more upside in this ten-week-old bull run.
The CS Scientific Hybrid Trade Screen in MetaStock 11 tends to do a very good job of alerting traders and investors to the various trend/non-trend phases of any given market. Here, we see that the S&P 500 Index is in its third week of a strongly bullish period on its weekly time frame.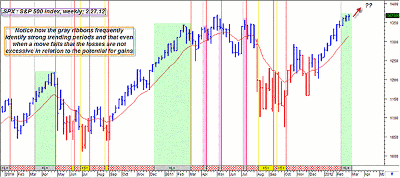 Click to Enlarge
On the weekly chart for SPX, I have added the CS Scientific Hybrid Trade screen, which is one of the most accurate expert advisors in MetaStock 11. Essentially, the colored ribbons at the bottom of the chart serve to give traders and investors a guide as to the trend strength of a given stock or futures market.
Right now, SPX has been given the blessing of a gray ribbon, which is telling us that the index may be entering a period of sustained, persistent bullish trend.
Note how well it has worked in the recent past; the market tends to rise for several weeks after the gray ribbon prints. It is not a perfect indicator, however, but even when the signals are inaccurate, it changes back to the neutral crosshatched zone (reddish-white colored ribbon), alerting traders and investors that there is no bullish edge to exploit.
All of the recent price action on the chart (during gray ribbon zones) has been shaded green so you can see how effective a market timing indicator this can be. It's an impressive tool that everyone from active traders to covered-call investors can use to keep themselves on the right side of the market, and it can be used on daily, weekly, monthly, and even quarterly price charts, depending on how much price data you have to work with.
Currently, this MetaStock expert advisor is showing us that SPX is now in its third week of the bullish gray zone, and if the last two profitable gray zone phases are any indication, there may yet be a few more weeks of upside left in this particular bull run before a meaningful pause and/or correction begins.
The first one lasted for seven weeks, and the following one went for a full 12 weeks before a significant correction ensued. Of course, there have been three recent gray zones that failed to produce any gains at all, but even then, a savvy trader would have been alerted by the change from the gray ribbon to the red crosshatched one that it was a good time to get back flat into cash again.
All in all, this is the most effective and easy way to use a broad market timing indicator that I have ever seen in any trading software package, and it's one that serious traders should spend some time investigating, particularly if they trade stocks.
Here are the top ten high-relative-strength large-cap stocks versus the .SPX over the past 13 weeks: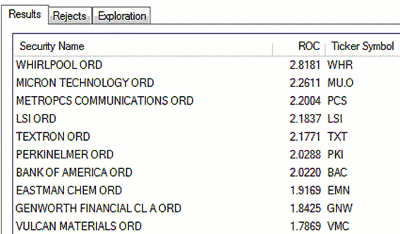 Click to Enlarge
Do your own research and see if they are worthy of your trading capital, based on their fundamental strength (P/E ratio, earnings, dividends, and so on) and current technical strength (chart patterns, money flow, systems firing buy signals, and so forth).
However you choose your stocks, make sure you're always trading in the direction of broad market strength (or weakness, if you are going short) so that you always have the probabilities working in your favor.
By Don Pendergast, independent trader and systems writer