Critical VIX Level Nobody Talks About
03/16/2012 8:00 am EST
Focus: TRADING
Traders who view the 30 level in the VIX as a "magical" threshold separating bulls from bears share a common misconception, writes Tyler Craig; although there is a VIX level with major historical significance.
Before embarking into the wonky world of VIX analysis, traders ought to arm themselves with a proper perspective on price levels. Of particular importance is the fine line that exists between attributing some significance to a specific price level and treating said price level as a magic barrier which, when breached, signifies some cosmic shift in the financial markets.
For example, some bow at the altar of the 30 level and swear off bullish trades when the VIX sits above 30 and bearish trades when it rests below. The crossing of the critical 30 threshold is heralded as an epic event worthy of a full-fledged reversal in one's outlook. Sadly, however, such an assertion is misguided.
In truth, the 30 level isn't all that different than 29 or 31. Far from providing all-clear signals for the bulls or bears to finally come out and play, the VIX simply reveals varying degrees of future volatility expectations.
In sum, don't delude yourself into thinking the VIX provides all-or-nothing signals.
See related: Using the VIX as a Market Indicator
On the other hand, the absence of any magic thresholds doesn't mean certain levels can't hold more significance than others. In the post-2007 world, the 15 level has acted as an impenetrable bastion of support halting any VIX decline. Its successful defense precipitated: 1) the eventual 2008 cascade; 2) the 2010 flash crash; 3) the early-2011 Japan tsunami selloff; and 4) the 2011 US credit-downgrade- driven swoon.
So, does the current test of 15 spell impending doom for US equities? Not at all.
For starters, some of the aforementioned market corrections occurred months after the 15 level was initially touched. There's nothing to stop the VIX from meandering sideways or perhaps a bit lower at current values while the market powers higher.
If the VIX is finally able to break and remain below this pivotal level, it will at the least mark a noteworthy change in market behavior and serve as one more testament to the strength of the current bull run. After all, not even the monster uptrend from September 2010 to March 2011 was able to knock the fear index below 15.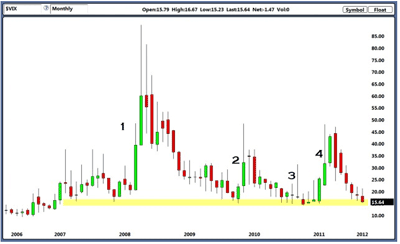 Click to Enlarge
See related: A VIX Event That Defies Reason
By Tyler Craig of TylersTrading.com
By clicking submit, you agree to our privacy policy & terms of service.
---
Related Articles on TRADING