The Ultimate Sign a Stock Has Bottomed
05/10/2012 8:00 am EST
Focus: STOCKS
Forced margin liquidations by a company CEO have marked clear bottoms in the past, writes Robert Sinn, a theory that will be again tested given recent developments in a once-leading growth stock.
After a recent market close, we learned that Robert Stiller, chairman of the board of Green Mountain Coffee Roasters (GMCR), was forced to sell 5,000,000 shares of GMCR yesterday in a margin liquidation.
The shares were sold at an average price of $24.68/share after GMCR's share price had fallen more than 50% in less than a week and more than 80% from its all-time high reached less than one year ago. Stiller is the company's founder and has been a longtime seller of GMCR stock:


Click to Enlarge
The last time I can recall a prominent CEO/chairman being caught in a forced margin liquidation of a large slug of company stock was Chesapeake Energy (CHK) CEO Aubrey McClendon in October 2008: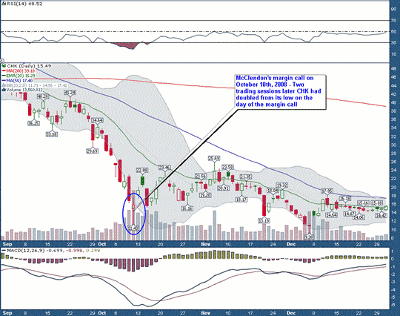 Click to Enlarge
While McClendon's margin call was for a larger number of shares, the charts of CHK in October 2008 and GMCR right now aren't all that dissimilar: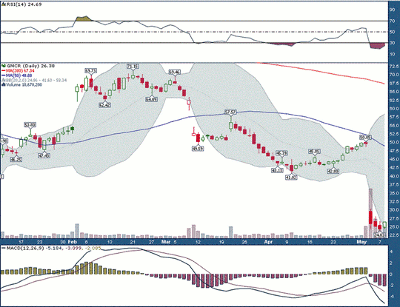 Click to Enlarge
Notice that CHK's share price doubled within two trading sessions from its margin liquidation low.
While I am not bullish on GMCR fundamentally or technically, this situation certainly does beg the question: Is a CEO/chairman margin call the ultimate capitulation selling?
By Robert Sinn of RobertSinn.com