Failed Trade Review: Itchy Trigger Finger
12/12/2012 6:00 am EST
Focus: STRATEGIES
One of the first things drilled into newbie traders is the need to have a trading plan before entering the markets. But, as trader Brian Lund of BCLund.com shares in this trade review, even when you do, things can still go awry.
This post hurts. I mean it really hurts.
I have been pounding the table for a few weeks in my Monday Trade Ideas posts about TEX. Everything about the setup looked great from a swing trade standpoint.
And if you have followed me for any amount of time, you know I have written about how traditional patterns in the market can be distorted and that you have to account for that in your trading.
So why is it that I got shaken out of my TEX trade last Thursday and missed the move that I had been predicting would come?
Because I was swing trading with a day trader's mentality.
I recently wrote about how I am transitioning back from a day trading style to more of a swing trade style, but I obviously haven't completed that process yet. Let's go to the tape.

Click to Enlarge
Here is the setup I was looking at; TEX coming out of a nice large down channel, where I got long. Then it even got better as a small consolidation area formed, which gave me an objective stop level.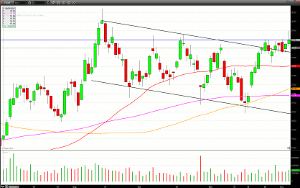 Click to Enlarge
But the trouble began when the stock tried to break out above that resistance and was turned back, creating an inverted hammer. This was a potential "failed breakout" and I waited 'til the next day to get confirmation.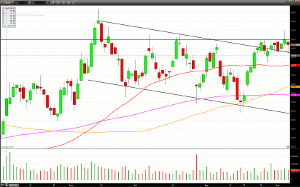 Click to Enlarge
Confirmation did come the next day, however here is where I made my mistake. I sold when the stock was at the low of the day, instead of letting the day finish out. Of course, price came right back up and formed a red hammer, just below the breakout point.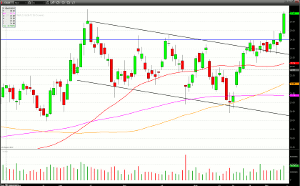 Click to Enlarge
And thus the painful part. TEX broke out the next day and continued with a beautiful picture perfect follow through Monday. Ouch!
The problem with this trade is that I reacted too quickly, a la day trading.
Even at the low of the day when I sold out, I was just a hair below break even. Now if the stock had been at that low going into the close, I would have probably been justified in selling out there, wanting to avoid a possible gap down the next morning.
But intraday I could have, should have, given it more room.
Normally I would insert some sage advice to myself here, but this time I think I will skip it, as I need to find a fiscal cliff to jump off.
By Brian Lund of BCLund.com