Improving the Competition's Performance
12/20/2012 9:00 am EST
Focus: STOCKS
As Ovid once said "A horse never runs so fast as when he has other horses to catch up and outpace;" an axiom that seems true of stocks, as well, writes Steven Spencer of SMB Capital.
On December 12, Coinstar (CSTR) announced they would be starting a streaming service in competition with Netflix (NFLX). My initial reaction was a smile and a bit of a chuckle. CSTR has been doing very well for the past few years offering $1 DVDs at supermarkets. A simple business model that was leading to good cash flow. Now it was going to enter the much more complicated space of delivering content via broadband technology. A space that NFLX has been game planning for years and completely dominates (just ask AAPL, AMZN, and BBE). A space that many people think will eventually even crush NFLX, because the cost of licensing good content will be to high for NFLX to earn a profit.
The initial reaction to this announcement was some pre-market selling in NFLX. But by the open, it was positive and by the late morning it was driving above the prior week's resistance. In the week prior to the CSTR announcement, NFLX had been strong trading in the mid to high 80s. This strength began on 12/4 with a future distribution deal with Walt Disney (DIS) announced. Remember the primary thesis of many of those long-term bearish on NFLX is they will not be able to negotiate favorable distribution deals. The DIS deal caused the market to further discount that line of thinking.
In the meantime, the CSTR announcement that it would compete in NFLX streaming space was an acknowledgment that the future of home entertainment distribution is electronic and not physical. Duh! So you have a brick and mortar competitor now attempting to adjust its business model to where NFLX has spent years cultivating. A space that NFLX has fended off AAPL, AMZN, and BBE successfully.
That is why when we discussed NFLX in our AM Meeting we talked about 88 being a trigger long and that if it could trade above 90, it had much more upside. Our unconventional thinking led us to this thesis and it was confirmed by the price action. It probably helped that most others were looking to day trade NFLX on the short side, which created several squeezes throughout the day.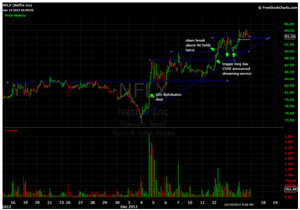 Click to Enlarge
NFLX closed the week at 93.30 and I think it is 50/50, it trades to 96 in the next two trading days (Ed's Note: NFLX has indeed been trading in the 96 area over the last two trading days). So, if I can pick it up on a quick dropout close to 91, I would consider making that trade. Also any consolidation above 94.50 would interest me, but with a much tighter stop loss.
No relevant positions.
By Steven Spencer, Co-Founder, SMB Capital and SMB University