When to Trade What
Focus: MARKETS
Successful traders know that understanding the market dynamics during various times of the day is a very important component of profitable trading, which Paul Lange of Pristine Capital Holdings, Inc. discusses in detail here.
The market's first reversal time is 9:35 (all times are Eastern, New York market time). The next two reversal times, 10:00 and 10:30, are two key times that we will talk about here, as well as the beginning of the 'lunch hour.'
There are nine micro reversal times. Four-five of them are major and critical. Also, understanding HOW to use them and HOW they interact is imperative. Let's look at the morning reversals, 10:00 and 10:30: There is also a minor reversal time at 11:15. It is simply amazing how many traders do not use the reversal times to their advantage. This probably spawns from the fact that many traders do not even know or understand them. If you are one of those traders, you are going to learn something that will change your trading career in the next couple of paragraphs. A picture says a thousand words, so look at the charts below.

Click to Enlarge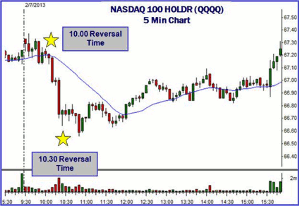 Click to Enlarge

Click to Enlarge
These are the three five-minute charts of the QQQ from the last three days, period.
---