Is a Market Correction Imminent?
03/07/2013 7:00 am EST
Focus: MARKETS
With the stock market flirting with all-time highs, investors and traders are getting nervous, but Greg Capra of Pristine Capital Holdings, Inc. thinks that those fears are groundless, for now.
On February 25, the broader markets gapped higher and then declined all day to close near the session lows. It was a wide-range bearish day that suggested more selling was to come and it did—for a couple of hours. I, too, thought there would more selling than what did occur, but here's why I knew it wouldn't be a major decline as so many thought it would be.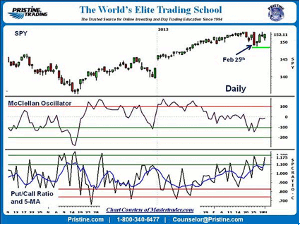 Click to Enlarge
At the end of the day on the 25th, there wasn't much reason to think there wouldn't more selling to test lower price support. That night I posted at the Pristine Facebook Group "Today's reversal suggests more selling is coming. However, major declines historically do not happen with the typical wrong-sided option traders already betting heavily on a drop. I cannot get too bearish based on that."
The above current chart was updated until the 25th and was also posted to show my reason why I did not expect a major decline. Historically, major corrections do not happen with option trader sentiment being bearish already and they positioned for the drop. That being said, I didn't think the drop was over that day either.
Most options traders have a short-term bias, which tends to cause erratic moves in the ratio day-to-day. For that reason, we smooth the day-to-day fluctuations with a moving average (blue line) for a bias at extremes. We can also look at the sentiment of intermediate-to-long-term investors as a guide. The American Association of Individual Investors (AAII) surveys their membership each week if bullish, bearish, or neutral. Let's look.

Click to Enlarge
Other than short periods in 2010 and 2012, these investors have been bearish on the markets. During those times of bullish extremes, a market pullback happened that turned them bearish again. Not enough of these investors have turned bullish now, which would signal a correction. So this ratio is also saying to stay still bullish.
When the AAII Bull Ratio turns bearish and the typical wrong-sided option traders are buying too many calls (bullish bets), it will be time to look for a larger correction. Markets moving to new all-time market highs are likely to start that shift in sentiment.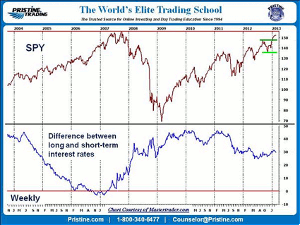 Click to Enlarge
The brown line above is of the S&P 500 ETF symbol SPY. Prices are close to the all-time high from 2077 and that does suggest corrective price action. Isn't that what we have been seeing? Yes, so far that corrective action has been sideways on the daily time frame, rather than down.
On the above weekly line chart of SPY, the dark green line is marking minor support and the light green line is major support. A pullback to the dark green line or midway between both lines (if prices do pullback) would be a normal bull market retracement. Below the light green line and major support and the weekly uptrend would be broken.
The blue line is one of our guides of when a larger correction of more than 20% is not far off. The line is the difference between long-term interest rates and short-term interest rates. Historically, when it moves under zero (an inverted yield curve) a recession and larger bear market is not far off. As you can see, it's nowhere near that level and still bullish.
It may be hard to accept a bullish bias when the markets have moved as far as they have over the last few years, but that is why we use market internals as a guide. Not our emotional beliefs. Until sentiment becomes bearish, history tell us that the markets are not likely to experience a major decline. That doesn't mean bull market corrections will not happen. I hope we get one that will set up a new buy. However, the odds that the majority of the option traders will ever or are catching the top now are low.
By Greg Capra, President & CEO, Pristine Capital Holdings, Inc.