How One Pro Trades Hammer Reversals
06/28/2013 6:00 am EST
Focus: TRADING
Most successful traders develop their own stable of go-to strategies for varying market conditions, and here veteran trader Brian Lund of BCLund.com shares his rules for one of his tried-and-true setups.
There is a school of thought that a trader should focus on one or two "bread and butter" type set-ups and get as good as they can at them. It's something that I used to read about on Trader X and the Wall Street Warriors blogs, and I have come to totally agree with.
I have found one of the more reliable intra-day setups is to buy off of a reversal hammer, however there are a few rules I follow in order to raise the percentages is my favor.
1. There has to be an "aggressive" downtrend preceding the hammer; in fact the more violent and bloody the better.
2. You want to see a large volume and price spike on the candle before the hammer. This is key because it usually means that the last group of longs are "throwing in the towel" en masse.
3. The hammer has to reverse in/at a previous support level.
4. The hammer has to be green, and the closer to a hammer opposed to a doji the better.
5. The overall market direction should be up, flat, or slightly down. Trying to catch a reversal hammer when the broad market is down big on the day is a losing game.
This chart on AAPL illustrates an almost a perfect reversal hammer set up. The only negative is that the actual body of the hammer is not as big as I would like it to be.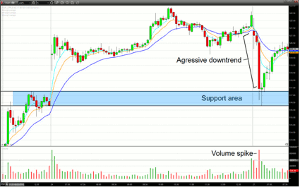 Click to Enlarge
Some traders think that you should wait for an inside consolidation bar after the hammer before you buy the break, but I don't agree. The dynamics of a hammer reversal, with the spike down on volume and price, as well as the long tail of the hammer itself, should mean that all sellers are exhausted, at least temporarily, and price should move back up fairly strongly.
A consolidation bar tells me that buyers are not easily overpowering sellers, and that the hammer may just be a temporary pause before a new round of sellers come in.
Once you have bought the break of the hammer's high, if you are a conservative trader, you should take a partial when price touches the 9 EMA. If you are an aggressive trader, you could take a position based upon 50-75% of the hammer's length instead of the total length, and also take a partial at the 9 EMA.
The most conservative way to play a hammer reversal is to not buy the break of the hammer, wait for price to bounce, settle back down to the support area, and form a second hammer. You could then buy the break of that hammer.
By Brian Lund of BCLund.com
By clicking submit, you agree to our privacy policy & terms of service.
---
Related Articles on TRADING